Practice Pavilion Dedication
July 23 - 25, 2021
A DHARMAKAYA CENTER PROGRAM
We invite everyone to the dedication and inauguration of our new Practice Pavilion.
This beautiful open-air pavilion is perched on the edge of the forest adjacent to our front lawn. It is a timber frame structure, measuring  30 x 30-foot, built without screws or nails. Practicing in nature creates a wonderful energy flow, and this pavilion will be particularly conducive to your meditation, yoga and other wellbeing practices.
Be among the first of the Dharmakaya family to experience our Practice Pavilion and its powerful connection to nature.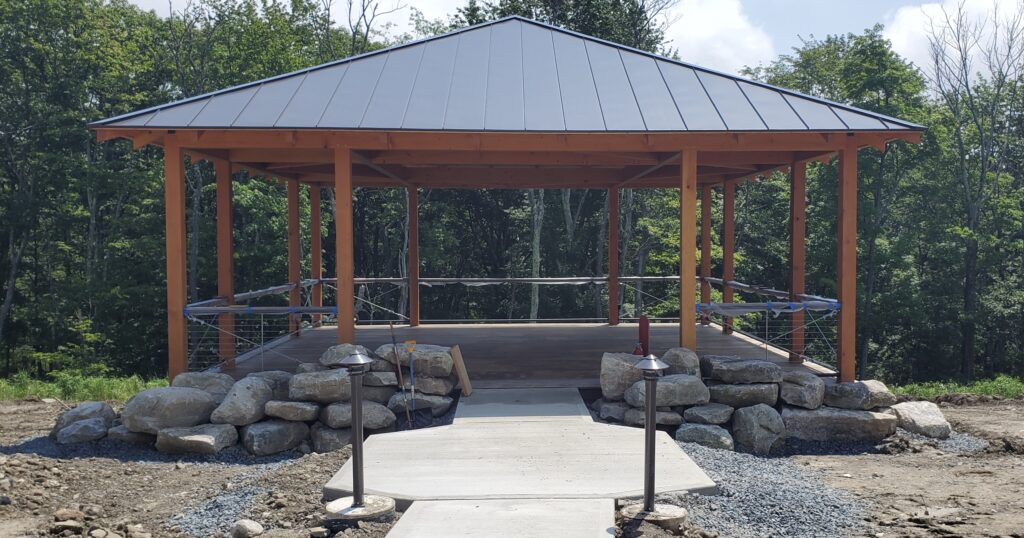 EVENT HIGHLIGHTS
Group practice in the beautiful shifting light of dawn or dusk
Option to join the Center for breakfast, lunch or dinner (additional charge)
Option to stay on Personal Retreat in our Just Be weekend (additional charge)
OPEN TO ALL
These sessions are free and open to all, but reservations are required for each session (during the registration process, simply select the sessions you want to attend). Please note that meals and overnight stay are an additional charge.

SCHEDULE
You are welcome to come for one or more meditations; please indicate your plans when you register.
Friday, July 23

| | |
| --- | --- |
| 6:00-7:00 PM | Dinner |
| 7:15-7:30 PM | Welcome and Introduction |
| 8:00-8:30 PM | Sunset Meditation |
Saturday, July 24

| | |
| --- | --- |
| 5:30-6:00 AM | Sunrise Meditation |
| 7:00-8:00 AM | Group Walking Meditation, optional |
| 8:00-9:00 AM | Breakfast |
| 12:00-1:00 PM | Lunch |
| 1:30-2:00 PM | Outdoor Afternoon Meditation |
| 6:00-7:00 PM | Dinner |
| 7:45-8:30 PM | Pavilion Dedication and Sunset Meditation |
Sunday, July 25

| | |
| --- | --- |
| 5:30-6:00 AM | Sunrise Meditation |
| 7:00-8:00 AM | Morning Salutations and Meditation, optional |
| 8:00-9:00 AM | Breakfast |