Basic Buddhism: The Core Teachings
With John Henderson
March 4 - 6, 2022
A DHARMAKAYA CENTER RETREAT
What is Buddhism? Its history? Its relevance today?  In an easy-to-digest approach we will discuss the many concepts and meditation practices in Buddhism and how they form an interlocking and cohesive spiritual path toward greater awareness.
"Absolutely fantastic! John taught the dharma in a way that was accessible and understandable to everyone."
ADDITIONAL BASIC BUDDHISM PROGRAMS: You may also be interested in:
STAY SAFE DURING COVID-19: We are committed to your health and safety. Please read our COVID-19 Precautions & Preparations to understand our strategies, including limited class size to facilitate social distancing and ample teacher attention.
BRING A FRIEND DISCOUNT: Do you know someone who would like this program, but hasn't been to the Center? Bring them, and you both get a 10% discount on your entire program package. For the discount to apply, there must be two reservations, at least one of whom has not taken a Dharmakaya Center class previously. At checkout, apply the Discount Code: BringAFriend.

PROGRAM DESCRIPTION
Is Buddhism a religion or a philosophy? Is it the same thing as mindfulness? How does karma work? Does meditation really relieve stress? Why?
This engaging weekend program of interactive teachings and discussions will answer (many of) your questions about:
The historic Buddha
The core Buddhist teachings on compassion, wisdom, karma, emptiness, and impermanence
The scientific basis of many of the practices
How to meditate
When not in class, relax in the Center's beautiful and tranquil environment. Enjoy the view from the patio or a nearby hike, curl up with a book in the library or contemplate the stars while sitting by the fire pit. You are always welcome to join the regularly scheduled Center activities, including the Center's Sunday study program.
EVENT HIGHLIGHTS
Intimate setting with personal access to the teacher
Interactive sessions with question and answer periods
Personal and guided meditations
Delicious all-vegetarian meals with locally sourced ingredients
Option to extend stay on Personal Retreat
Extensive library of dharma books
Expansive wooded grounds with beautiful flora and fauna

OPEN TO ALL
There are no prerequisites for this program; it is appropriate for meditators at all levels and those simply interested in exploring the teachings.
SCHEDULE
(subject to change)
Friday, March 4

| | |
| --- | --- |
| 3:00 PM | Check in begins |
| 6:00-7:00 PM | Dinner |
| 7:30-8:30 PM | Welcome and Introduction |
| | Calming Meditation Techniques |
Saturday, March 5

| | |
| --- | --- |
| 7:00-8:00 AM | Morning Salutations and Meditation, optional |
| 8:00-9:00 AM | Breakfast |
| 9:30 AM-11:30 AM | Program |
| | |
| 12:00-1:00 PM | Lunch |
| 2:00-4:30 PM | Program |
| | |
| 6:00-7:00 PM | Dinner |
| 7:30-9:00 PM | Evening Meditation, optional |
Sunday, March 6

| | |
| --- | --- |
| 7:00-8:00 AM | Morning Salutations and Meditation, optional |
| 8:00-9:00 AM | Breakfast |
| 9:30 AM-11:30 AM | Program |
| 12:00-1:00 PM | Lunch |
| 1:00 PM | Checkout and Departure |
Teacher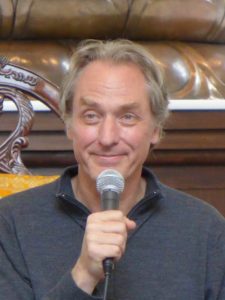 John Henderson
John Henderson has been a meditator for over 25 years and a student of Trungram Gyalwa Rinpoche's since 2003. He translates his practice into his work as a business professional and entrepreneur with a focus on healthcare-related enterprises.
Learn more about John Henderson