Manifesting Healing and Prosperity through the Practice of Kundalini Yoga
With Trish O'Gorman
April 29 - May 1, 2022
Shift your frequency to open yourself up to a new reality
RETREAT BY INVITED PRESENTER
Negativity, unhappiness, and fear are contagious—but so are love and optimism. In this transformative weekend, surround yourself with people who bring out the best in you. You will learn the techniques of Kundalini yoga to enhance prosperity, grow in abundance and change old limiting beliefs to change your experience of all that is. You will gain tools to continue your practice after the weekend, and Trish will offer a follow-up consultation to all who attend.
"Trish is a bright light for all who come together to share this experience—always wishing for more."
"A weekend away from all responsibilities to focus on your inner self and learn to heal yourself is priceless. I couldn't have asked for anything more." 
STAY SAFE DURING COVID-19: We are committed to your health and safety. Please read our COVID-19 Precautions & Preparations to understand our strategies, including limited class size to facilitate social distancing and ample teacher attention.

PROGRAM DESCRIPTION
As we continue to experience the challenges of these times, with fear and uncertainty dominating our days, we must consciously cultivate our compassion, kindness, acceptance, courage, strength, and love. Within every challenge there is an opportunity for profound growth. Let's prepare ourselves so that we can ride the turbulence of life with adaptability and grace! Over the course of this weekend we will:
Awaken greater awareness through the practice of specific kriyas, pranayama & meditation
Increase awareness of self in relation to inner patterns, habits, relationships & work at large
Identify our commitments and passions – what we teach and model for others
Develop knowledge & perspectives to effectively take our yoga practices off the mat & into the world
Apply a newfound awareness to our practice, lifestyle, conscious actions, teaching and ability to positively impact others
Refine our natural leadership qualities
Together we will come together to inspire and uplift one another as we practice kundalini kriya, and meditations. We'll chant, sing, dance, break out of our comfort zones, hike, and eat delicious food.
Why come on retreat? To surround ourselves with conscious community. Being around others who are on a spiritual path—and hearing their stories of victory—can inspire us to move through old stories that do not serve our evolutionary potential.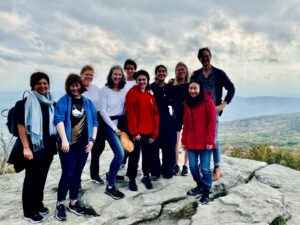 EVENT HIGHLIGHTS
Intimate setting with personal access to the teacher
Interactive sessions with question and answer periods
Shamatha and guided meditations
Delicious all-vegetarian meals with locally sourced ingredients
Option to extend stay on Personal Retreat
Extensive library of dharma books
Expansive wooded grounds with beautiful flora and fauna
OPEN TO ALL
The only prerequisites for this program are an open mind and a willing heart. While the program is rigorous, everything can be modified and made accessible; it is suitable to all.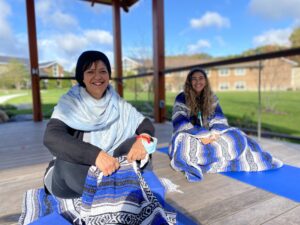 SCHEDULE
(subject to change)
Friday, April 29
3:00 pm
Check in begins
6:00-7:00 pm
Dinner (Dining Room)
7:15-9:00 pm
Welcome and Introduction (Milarepa Hall)
Kriya, Meditation and Deep Relaxation
Saturday, April 30
| | |
| --- | --- |
| 6:00-8:00 am | Aquarian Sadhana: Japji, Kriya, Chanting Meditations (Milarepa Hall) |
| 8:00-9:00 am | Breakfast (Dining Hall) |
| 10:00-12:00 pm | Kundalini Yoga and Meditation (Outdoors or Milarepa Hall) |
| 12:00-1:00 pm | Lunch (Dining Hall) |
| 1:30-4:00 pm | Time to reflect, journal, walk our beautiful grounds, or hike the nearby Shawangunks |
| 6:00-7:00 pm | Dinner (Dining Hall) |
| 7:15-9:00 pm | 62-minute Chanting Meditation, Ecstatic Dance, Joyful Movement, Gong Bath (Milarepa Hall) |
Sunday, May 1
| | |
| --- | --- |
| 6:00-8:00 am | Aquarian Sadhana: Japji, Kriya, Chanting Meditations (Milarepa Hall) |
| 8:00-9:00 am | Breakfast (Dining Hall) |
| 10:00-11:30 am | Kundalini Yoga and Meditation (Outdoors or Milarepa Hall) |
| | Dharma Talk, Q&A, Closing Ceremony (Milarepa Hall) |
| 12:00-1:00 pm | Lunch (Dining Hall) |
| 1:00 pm | Checkout and Departure |
Teacher
Trish O'Gorman
Trish O'Gorman, also known as Ravi Kirtan, is a level 1 and 2 trained teacher of Kundalini yoga who has been teaching several classes a week, leading workshops and trainings, since 2005. Her first experience with Kundalini yoga was in 2004 and it was an experience of coming home. It resonated so deeply physically, mentally, emotionally and spiritually, Ravi Kirtan knew she had found her dharma. Sharing this enormous body of work and its transformative power has become her purpose. A nurse by profession the science behind the teachings fascinate and compel Ravi Kirtan to keep learning and continuing on…
Learn more about Trish O'Gorman