Wisdom of the Body
With Gena Rho
April 1 - 3, 2022
A Weekend of Somatic Movement Exploration
RETREAT BY INVITED PRESENTER
It is possible to move in and through the world with freedom, ease and joy. The wisdom of our bodies often lies dormant in our unconscious, while our consciousness or awareness is held in tension or pain. We will spend this weekend waking up to the renewed possibility of sensing and feeling how physical restriction, tension, and stress can be changed into freedom and is within our control.
"I was so thrilled with the sense of community, compassion and peaceful energy that came out of the group, the teachers and the environment."
STAY SAFE DURING COVID-19: We are committed to your health and safety. Please read our COVID-19 Precautions & Preparations to understand our strategies, including limited class size to facilitate social distancing and ample teacher attention.

PROGRAM DESCRIPTION
Everything we expose ourselves to, either by choice or default, has an impact on our system. Our challenge is to stay with ourselves in balance, in joy, and in line with who we are. Somatic movement delves into the unconscious, and helps us attain that inner equilibrium.
Within our somatic awareness lies intuition, creativity, and the ability to return to our most functional and free selves. When our perception shifts, our experience in the world follows. By gently embodying a renewed sense of yourself through a somatic movement practice you can bring optimal function and efficiency to all that you do.
Learn a gentle yet powerful somatic movement to regain muscle control
Understand the power you have for self-healing
Gain a new perspective on your body and brain connection
Improve function and efficiency of movement
Benefit from guided moving mediation
Awaken your creative flow
The somatic perspective is an experience of our physical body from within. Through gentle moving meditations we will learn a highly effective method to rebalance, stay with our selves, and find freedom from physical tension and pain.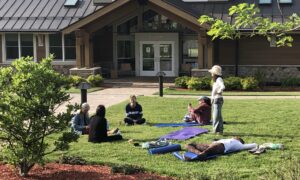 EVENT HIGHLIGHTS
Interactive somatic movement sessions with question and answer periods
Guided moving meditations
Intimate setting with personal access to the teacher
Delicious all-vegetarian meals with locally sourced ingredients
Option to extend stay on Personal Retreat
Extensive library of dharma books
OPEN TO ALL
There are no prerequisites for this program; it is appropriate for all.
SCHEDULE
(subject to change)
Friday, April 1

| | |
| --- | --- |
| 3:00 PM | Check in begins |
| 6:00-7:00 PM | Dinner |
| 7:15-9:00 PM | Welcome and Introduction |
| | Movement |
| | Meditation |
Saturday, April 2

| | |
| --- | --- |
| 8:00-9:00 AM | Breakfast |
| 9:15-11:45 AM | Movement Practice |
| | |
| 12:00-1:00 PM | Lunch |
| 2:00-4:30 PM | Function, creation, and movement exploration |
| 6:00-7:00 PM | Dinner |
| 7:30-9:00 PM | Fireside gathering and sharing |
Sunday, April 3

| | |
| --- | --- |
| 8:00-9:00 AM | Breakfast |
| 9:30 AM-12:00 PM | Movement Practice |
| | Closing Circle |
| 12:00-1:00 PM | Lunch |
| 1:00 PM | Checkout and Departure |
Teacher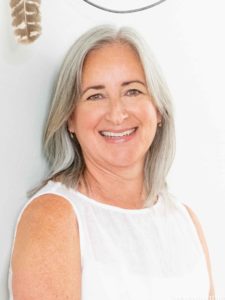 Gena Rho
Gena is an educator, dancer, yogini, and certified Clinical Somatic Educator. Gena teaches Somatic Movement, functional movement, and yoga. Her private Clinical Somatic practice is in Maplewood, NJ, where she works with clients of all ages to help them regain control of muscle function that may have been lost due to injury, trauma, or chronic pain. Gena's somatic training is in the tradition of Thomas Hanna, a neuroscience-based somatic modality with Martha Peterson of Essential Somatics. She is currently a lead teacher with Essential Somatics, running the teacher training in the Northeast United States. She has been an adjunct professor…
Learn more about Gena Rho