Online Program: Calling the Guru From Afar Livestream
With Trungram Gyalwa Rinpoche
May 27 - 30, 2022
A Retreat Exploring Direct Path Practices
A DHARMAKAYA CENTER RETREAT
Written by the great Rimé master Jamgön Kongtrul Lodrö Tayé, Calling the Guru from Afar is a supplication to the gurus of all Buddhist lineages. In this compelling three-day program, Rimé master Trungram Gyalwa Rinpoche uses it as the framework through which to practice the direct path, a powerful means of realizing the true nature of the mind.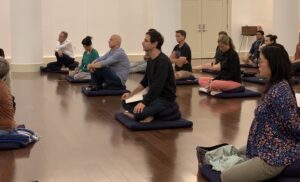 PROGRAM DESCRIPTION
In Calling the Guru From Afar, the supplicant calls on all the great Buddhist masters, one by one, asking for their blessings. In the related practice, the goal is to arouse a sense of deep devotion for the guru—not mere lip service but something felt in the very depths of your heart. This profound meditation can become a direct path to understanding the true, timeless nature of the mind.
Together, we will recite the classic prayer—then Rinpoche will explain both the meaning and the practice, leading us in meditation and answering questions as they arise.
You will leave with a deeper understanding and a stronger practice.

EVENT HIGHLIGHTS
Interactive sessions with teachings and group song
Guided meditation
Tibetan yoga practice
You are encouraged to engage in Tsa-Tue Yoga, Solitary Meditation, and Walking Meditation between sessions

OPEN TO ALL
There are no prerequisites for this program; it is appropriate for all.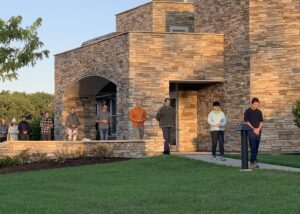 SCHEDULE
(subject to change)
All times in the schedule below are provided in the Eastern Time Zone. For the first session global starting times are:
USA West: 4:45 PM, May 27
USA East: 7:45 PM, May 27
London: 12:45 AM, May 28
Berlin, Paris: 1:45 AM, May 28
New Delhi: 5:15 AM, May 28
Kathmandu: 5:30 AM, May 28
Bangkok: 6:45 AM, May 28
Hong Kong, Singapore, Bejing: 7:45 AM, May 28
Friday, May 27

| | |
| --- | --- |
| Session 1 | |
| 7:40-7:45 PM | Introduction and Welcome to the Retreat |
| 7:45-9:00 PM | Rinpoche Teaching and Q & A |
Saturday, May 28

| | |
| --- | --- |
| Session 2 | |
| 8:00-10:00 AM | Rinpoche Teaching and Q & A |
| 10:00-11:00 AM | Tsa-Tue Yoga |
| 11:00-11:30 AM | Small Group Discussion |
| | |
| Session 3 | |
| 7:00-9:00 PM | Rinpoche Teaching and Q & A |
| 9:00-10:00 PM | Small Group Discussion |
 Sunday, May 29

| | |
| --- | --- |
| Session 4 | |
| 8:00-10:00 AM | Rinpoche Teaching and Q & A |
| 10:00-11:00 AM | Tsa-Tue Yoga |
| 11:00-11:30 AM | Small Group Discussion |
| | |
| Session 5 | |
| 7:00-9:00 PM | Rinpoche Teaching and Q & A |
| 9:00-10:00 PM | Small Group Discussion |
Monday, May 30

| | |
| --- | --- |
| Session 6 | |
| 8:00-10:00 AM | Rinpoche Teaching and Q & A |
| 10:00-10:45 AM | Closing Ceremony |
| | |
Teacher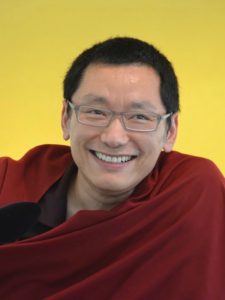 Trungram Gyalwa Rinpoche
H.E. Trungram Gyalwa Rinpoche is the founder and spiritual director of the Dharmakaya Center for Wellbeing. Known as a scholar, teacher and meditation master to thousands of students around the world, Rinpoche is also the first incarnate lama to earn a PhD in the West. He completed his doctoral studies in Indo-Tibetan Buddhism at Harvard University in 2004. He is the head of the Trungram lineage, its monasteries, meditation centers, schools, dharma centers and groups around the world. One of the highest tulkus of the Kagyu lineage, he is a Rime master, having received teachings from the great masters of…
Learn more about Trungram Gyalwa Rinpoche