Soul Spa Wellness Weekend for BIPOC Leaders
With Rev. Mignon Grayson, Salome Raheim, Ph.D., ACSW, Rev. Dr. Sushmita Mukherjee, Grace Osborne and Rev. Therese Bimka, Program Initiator and Weaver
August 5 - 7, 2022
Restoring Wholeness
A DHARMAKAYA CENTER STILL PROGRAM
CO-SPONSORED BY THE HOLISTIC HEALTH COMMUNITY

Let's face it: Implicit and explicit racism is draining. Soul depleting. And in some cases, life threatening.
Today, the trauma of racism is being discussed and witnessed across diverse segments of the population and associated institutions. The time for change is ripe. We need to find creative and meaningful ways to support the leaders who bring this critical work forward.
Our response: The Soul Spa Weekend led by four fabulous BIPOC presenters.
Join us as we sponsor 12 BIPOC Leaders who must not only navigate their own racialized trauma, but who also hold, support and offer inspiration to the communities they serve.  We want to support you in strengthening your resiliency so you can stay the course and show up for the bold and compassionate work ahead.  The program focuses on:
Identifying stress factors that impact healing, activism and service work using the lens of systemic constellations, ancestral healing work and nature based expressive arts ritual
Cultivating mental, spiritual, and emotional wellbeing
Developing sustainable self-care strategies
The program is free of charge, but requires an application. See below for details. 
STAY SAFE DURING COVID-19: In the interest of safety, we are strictly limiting enrollment to 12 people; please read our COVID-19 Precautions & Preparations to understand our additional strategies.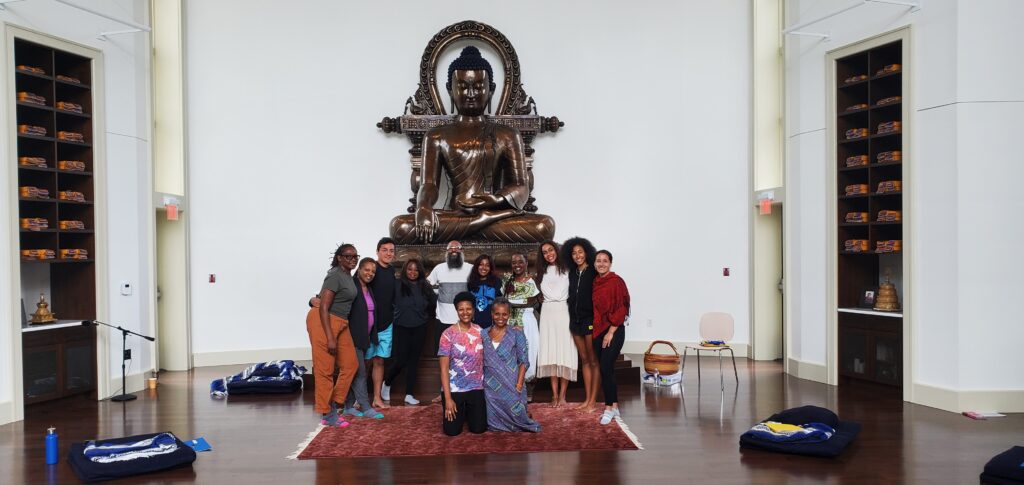 PROGRAM DESCRIPTION
The weekend will offer a diverse range of opportunities. Four main program sessions will be punctuated by contemplation, healing arts, time in nature ,and holistic treatments.
Ancestral Medicine: An Internal Journey for Personal Healing, led by Mignon Grayson

Ancestor reverence is an ancient spiritual practice. It is found in many cultures across the world and is particularly alive in indigenous traditions. The honoring of ancestors helps us in our personal and spiritual growth, inviting us to inhabit a larger and more coherent relationship with ourselves, our communities, our past, and our present.
Mignon will open the weekend by honoring the ancestors through libation and the practice of call & response.  Libation and sacred songs are ancient spiritual rites. Libation is the pouring of water to honor the Divine in all manifestations. Sacred Song is an invitation to the ancestors to join us, to witness and bless our weekend as we connect with the innate wholeness that is always present.
These ancient practices will help create a kind and loving sacred container for the weekend.
Healing Intergenerational Trauma with Systemic Constellation Practices, led by Salome Raheim

Unhealed traumas of our lives and past generations affect our wellbeing. They manifest in our relationships and bodies—literally in our DNA—and can hinder our abilities to skillfully respond to current issues, obstacles, and challenges.
Family and Systemic Constellations is an experiential and participatory approach that enables individuals to overcome lineage patterns, disconnections, wounds, and fears that block us. In the sacred container that is created during the constellations process, profound insights and shifts of consciousness are able to manifest and activate healing and transformation.
Salome is an experienced constellations practitioner.  At the 2017 North American Systemic Constellations Conference, Salome co-led a powerful constellation process to promote trans-generational healing from the trauma of the Trans-Atlantic Slave Trade. Here she will lead participants in exploring systemic constellations as a healing modality and facilitate processes designed to heal intergenerational trauma; it is a stunning process of discovery, bearing witness, and generating authentic integration and healing.
An Internal Journey for Personal Healing, led by Mignon Grayson

Before we rest in the sacred beauty of the sound bath, Mignon will take us on a personal journey using breath, voice, and sound. The meditation will facilitate a direct ancestral connection so you can access the inner guidance that is always available.
Ancestors are not gone. They are within us and eager to help. This deep-dive guided meditation will gently transport you to a space of wisdom where you will be invited to meet your spirit guides and ancestors to receive healing, support, and guidance.
By the evening's end, participants will emerge with a feeling of peace, tranquility, and appreciation towards the great ancestral source.
Sound Bath
The experience of sound encourages more space, rest, and resilience in the body and nervous system. Sound also provides an opportunity to experience ourselves more deeply, to connect to our higher consciousness, to create a sanctuary within ourselves, and to provide a path to the present moment. Sound practitioner Grace Osborne will facilitate this experience through singing bowls and various other sound instruments. We will close with a group vocal and listening exercise.
Exploring Wholeness through Earth Based Ritual and The Symbolism of the Circle, led by Sushmita Mukherjee
For the closing segment, we will delve into the mystery, magic and hospitality of the circle, an ancient and healing symbol of integration. Using movement, group process, meditation, and altar building, we will contemplate how the circle symbolizes eternal flow and inclusion—nothing is extraneous to a circle; everything fits; all is welcome.
As a group, we will co-create an earth based altar, a collective visual meditation connecting us more deeply with the medicine of the land and nature as healer and with each other.  Through the ritual of the altar building process we will weave and witness our history and ancestry, our dreams and aspirations, our celebrations and frustrations, and finally we will part as a circle of friends, gifting the earth herself a stunning expression of our beauty, power, and radiance as individuals and as a community.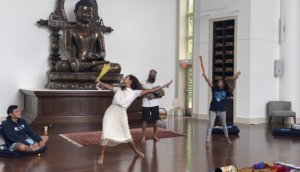 APPLICATION
This program is free of charge, but requires an application. To receive an application, please email Therese Bimka. Those who are accepted will receive a registration code.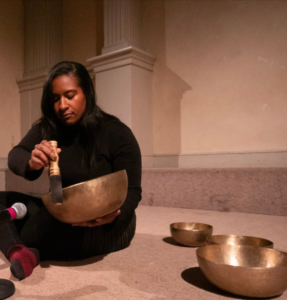 SCHEDULE
(subject to change)
Friday, August 5

| | |
| --- | --- |
| 3:00 PM | Check in begins |
| 6:00-7:00 PM | Dinner |
| 7:15-7:35 PM | Welcome and Introduction |
| 7:35-9:30 PM | Group Introduction and Icebreaker |
| | Ancestral Medicine: An Internal Journey for Personal Healing, led by Mignon Grayson |
Saturday, August 6

7:00-8:00 AM
Morning Salutations and Meditation, optional
8:00-9:00 AM
Breakfast
9:15 AM-12:15 PM
Healing Intergenerational Trauma with Systemic Constellation Practices, led by Salome Raheim
12:15-1:15 PM
Lunch
OPTION 1:
12:15-2:45 PM
Request a Brown Bag lunch and join Therese for a stunning local hike
OPTION 2:
3:30-5:30
The Holistic Health Community of The Hudson Valley is offering free holistic health sessions for participants and facilitators. Virtual and in person offerings.
OPTION 3:
1:00-6:00 PM
Unstructured time for Relaxing
6:00-7:00 PM
Dinner
7:30-8:15 PM
Call and Response, led by Mignon Grayson
8:15-9:45 PM
Sound Bath, given by Grace Osborne
Sunday, August 7

| | |
| --- | --- |
| 7:00-8:00 AM | Morning Salutations and Meditation, optional |
| 8:00-9:00 AM | Breakfast |
| 9:00 AM-12:30 PM | Exploring Wholeness through Earth Based Ritual and The Symbolism of the Circle, led by Sushmita Mukherjee |
| 12:30 PM-1:00 PM | Ritual Closing, led by Mignon, Salome, and Sushmita |
| 1:00 PM-1:15 PM | Final Goodbye, Evaluations |
| 1:15-2:15 PM | Lunch |
| 2:30 PM | Checkout and Departure |
Teachers