Sacred Timing: New Year's Eve
With Rev. Therese Bimka, LCSW and Amy McTear
December 30, 2022 - January 1, 2023
Enter the Threshold Portal of 2022-2023 with Purpose, Contemplation & Fun
RETREAT BY INVITED PRESENTER
Welcome 2023 with mindfulness, introspection, fun, and imagination. This weekend will be an invitation to living on purpose and to accessing the miracle of this precious journey we call life. Together we will create an experience that is spacious, warm, engaging, creative, and inspirational.
"The program, the presenter, and the nurturing environment of the center, staff and beautiful grounds created a very peaceful and healing experience."  ~ J.C
STAY SAFE DURING COVID-19
: Please read our
COVID-19 Precautions & Preparations
to understand our strategies.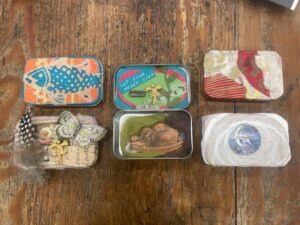 PROGRAM DESCRIPTION
Join the festivities, as we blend expressive arts and gentle movement with mindfulness practices. Ambitious souls can gather with the Dharmakaya Center staff and Executive Director to witness the midnight transition from 2022 to 2023.
The rest of the weekend will offer playful creative experiences: miniature Altoid tin altars, movement, and a delightful sound bath—activities that together create a beautiful integration, inviting soulful rest and restoration.
Altoid Tin Altars
Our human nature is to forget, to fall asleep, to fall off the wagon. How do we create meaningful pathways of remembrance for our spiritual truths, our values and dreams, our intent and heart? In the Middle Ages, spiritual leaders travelled with altars, triptychs and other religious items. These sacred objects anchored the traveller, reminding them that no matter where or how far s/he ventured, the divine was always close by.
For the main sacred arts project of the weekend,  each participant will create their own portable Altoid tin altar, uniquely designed to help you remember what you most long for. A variety of techniques will be shared for both exterior and interior design. NO art experience is necessary.
The Seed of Life Mandala
Sacred Art Practices are a gentle, engaging way to access contemplative states of being. There is something very special about creating from within while in community—and mandalas are an easy way to drop in. As you design your Seed of Life mandala—an ancient symbol of wholeness—pause, listen, and discern what it may reveal, highlight, and support.  Much wisdom is available when we simply invite the mind to step aside and allow other forms of guidance to emerge and offer their perspective.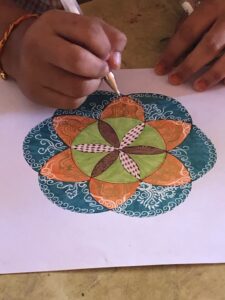 Group Meditation: Meditation offers a myriad of benefits for mind, body, and spirit. Practitioners often find it beneficial to meditate together in community, jointly increasing their depth of focus and comfort in their meditation practice. Join the Dharmakaya Center staff as you become more peaceful, feel more centered, experience a greater sense of wellbeing.
Sound Bath: Sound Bath healers create an atmosphere that will enable you to drop into deep relaxation and soulful  restoration. This evening of vibrational healing—a beautiful musical journey—will supply an extraordinary way to cross the bridge into the New Year.
"Even though we may forget our vows 10,000 times, come, come whoever you are… begin again and again." ~Rumi
In the sacred container we will create together, this creative and spiritually nourishing workshop will invite you into a contemplative and introspective experience, listening deeply while remaining in connection with kindred spirits.
Close the weekend renewed and refreshed as you enter 2023!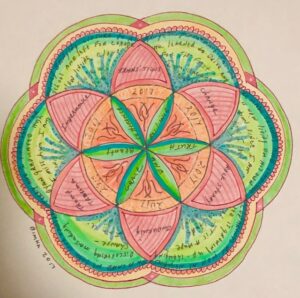 EVENT HIGHLIGHTS
Group size limited to 12 to ensure personal access to the teacher
Opportunities to be in community while enjoying silent creative exploration
Group sharing and deepening will be woven into the weekend time together
Seating and walking meditation
Guided visualizations
Sound Bath
Nia Movement and Dance
Option to begin each morning with salutations and silent meditation
Delicious all-vegetarian meals with locally sourced ingredients
Extensive library of dharma books
Expansive wooded grounds with beautiful flora and fauna
Option to extend stay on Personal Retreat
OPEN TO ALL
There are no prerequisites for this program; it is appropriate for all. No art-making experience necessary; all materials will be provided.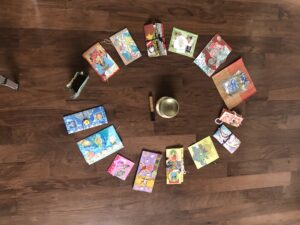 SCHEDULE
(subject to change)
Friday, December 30

| | |
| --- | --- |
| 3:00 PM | Check in begins |
| 6:00-7:00 PM | Dinner |
| 7:15-7:30 PM | Welcome and Introduction |
| 7:30-9:15 PM | Seed of Life Mandala |
Saturday, December 31

| | |
| --- | --- |
| 9:00-10:00 AM | Breakfast |
| 10:00 AM-12:15 PM | Tin Altars |
| | |
| 12:15-1:15 PM | Lunch |
| 1:15-4:15 PM | Tin Altars |
| 4:30-5:00 PM | Sunset Meditation (optional) |
| | |
| 6:00-7:00 PM | Dinner |
| 7:30-9:00 PM | Sound Bath |
| 12:00 AM | Welcome in the New Year |
Sunday, January 1

| | |
| --- | --- |
| 8:00-9:00 AM | Breakfast |
| 9:30 AM-12:00 PM | Integration, Ritual, and Closure |
| 12:00-1:00 PM | Lunch |
| | |
| 1:00 PM | Checkout and Departure |
Teachers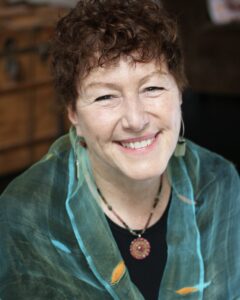 Rev. Therese Bimka, LCSW
Therese is a spiritual director and a psychotherapist in private practice in The Hudson Valley and the former director of The Interspiritual Counseling Program at One Spirit Interfaith Alliance (2011-2021).  She is a seasoned leader of retreats and workshops on a wide range of psycho-spiritual and creative themes. She has advanced training in various trauma- based teachings, guided visualizations for health, mindfulness meditation, Buddhism and psychology, expressive arts, Jungian Sandplay Therapy, soulcollage, and restorative justice, among others. Therese has led workshops and retreats for a number of organizations, including: The Hudson Valley Guild for Mental Health Practitioners, One Spirit Interfaith…
Learn more about Rev. Therese Bimka, LCSW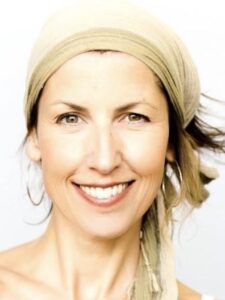 Amy McTear
Amy McTear is an inspirational speaker, teacher, writer and performer—a contemplative, an artist, an idealist, optimist, a dreamer and someone who likes to bring people together for positive evolution. Amy believes that there is one true voice within each of us and also one true human voice.  Her intention is to motivate people to the highest integrity within themselves, to bring the ultimate version of themselves to life.  She lives every day to achieve the same in herself. She is a Certified NeurOptimal® Trainer, Certified HeartMath® Coach, Certified Sound Healer, Life Coach and founder of One True Voice. She helps…
Learn more about Amy McTear