The Hungry Ghost
With Rev. Therese Bimka, LCSW, Sarah St. Onge, PhD, M.M.Ed, SEP, MIT, Valerie Linet, LCSW and Kelvin Young
November 2 - 4, 2022
A DHARMAKAYA CENTER STILL PROGRAM
Offered in Gratitude to Frontline Workers in the Opioid and Overdose Crisis
A training and retreat opportunity open to any professional who has had direct experience witnessing, supporting, or offering direct intervention and services to people suffering from addiction, especially as it pertains to the epidemic of overdose casualties.
Organized by our presenters and funded in part by the Trisong Foundation, private donors, and the generous in-kind contributions of our colleagues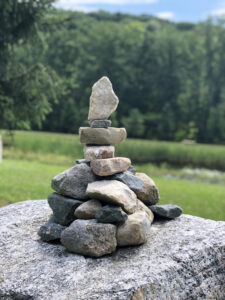 As a community—and as a nation—we are being overwhelmed by the opioid and overdose crisis. For those who witness the impact firsthand, the statistics are deeply personal. In this two-day immersion program for professionals who support those struggling with addiction, retreatants will explore grief, attachment, trauma and vicarious trauma; discover and strengthen the indestructible core within that is everyone's birth right; and learn specific mindfulness and somatic techniques to down regulate the nervous system when challenges and tragedy arise.
This program is free of charge, but requires an application. See below for details. 
STAY SAFE DURING COVID-19: In the interest of safety, we are strictly limiting enrollment to 15 people. Will will also ask for a negative PCR test 3 days before the event, and a negative rapid test within 24 hours of the event. Please read our COVID-19 Precautions & Preparations to understand our additional strategies.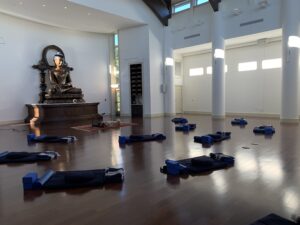 PROGRAM DESCRIPTION
Empathy can be enlivening and healing—but it can also lead to the emotional, physical, and spiritual exhaustion known as burnout. Healers, helpers, and empaths are often motivated by deep caring for others, but when we are repeatedly exposed to suffering without adequate support, it takes a toll on our own health and capacity to support others and ourselves.
Opening Night Music and Imagery Session with Sarah St. Onge
For our opening activity, participants will have an opportunity to listen to music and draw images that emerge from a deep place of inner connection.  This will invite us to explore a personal and shared resource of "wholeness" –  our theme for the weekend.
What If I'm Exactly What's Needed? Finding Wholeness in the Midst of Crisis with Sarah St. Onge
Being in the presence of someone who is suffering calls up all kinds of desires—to rescue, to fix, to protect, to escape, to help, to heal. Working with people with addictions tends to bring out our own strong reactions—including the impulse to "act" rather than feel, when what is most often needed is the ability to tolerate, support and contain our own and our clients' emotional  experience with equanimity and presence. Over the course of the morning we will practice what it is like to be "seated" in a place of wholeness, anchored and grounded so we can grow our capacity to be with challenging emotions like vulnerability, restlessness, and anger. We will engage in story-telling, partnered exercises and somatic experiences that strengthen resiliency by accessing our core selves. Participants will discover the connection between trauma and addiction, and will learn to identify the kinds of crises that pull us out of connection with ourselves and our clients. Through ritual and group connection, we will learn and practice generous listening,  share and be witness to each other's challenging work experiences, while recognizing and honoring that we each have an innate ability to heal, especially when we access that core place of wholeness.
When It Hurts to Keep Caring: Using Self-Compassion Practices to Prevent Burnout with Valerie Linet
In this session, we will discover creative and powerful ways to understand how both trauma and resiliency live in one's nervous system. Going beyond superficial encouragements for self-care, we will learn ways to transform our relationship to the pain we witness in our own body-mind-heart and in others, every day. Exploring the personal impacts of over-empathizing (sometimes referred to as "empathic distress" or "vicarious trauma"), through mindfulness and self-compassion practices we will learn to better serve ourselves and those seeking our help. Using Guided Meditation, Embodiment Practices, and Reflective Writing, we will discover ways of bringing kindness, curiosity and awareness to how we process suffering. We will leave with effective tools for regulation, and a greater understanding of how the body/mind can be a nourishing resource for ease and inner balance.
Sound Bath with Kelvin Young
The experience of sound encourages more space, rest, and resilience in the body and nervous system. Sound also provides an opportunity to experience ourselves more deeply, to connect to our higher consciousness, to create a sanctuary within ourselves, and to provide a path to the present moment.
Broken Bowl Project: Finding Our Wholeness Within the Shards with Therese Bimka
Addiction can feel shattering; there can be a sense that something is fundamentally broken, possibly beyond repair. But we know that each and every one of us has an indestructible core within that is bigger than any pain or wound. The Broken Bowl reminds us to find that place and learn to see its beauty and power. Kintsugi is an ancient Japanese art form of repairing broken pottery with gold.  It is also a metaphor: The place of brokenness becomes the golden portal to a stronger, more resilient self. The crack is where the light gets in. As the closing ritual for the program, each of you will journey with the fragments of your own broken bowl, symbolically reconstructing your brokenness into an expression of wholeness, resiliency and beauty. It will be a time of reflection and contemplation as you spend time bringing the fragmented pieces back into a (re)NEW(ed) wholeness.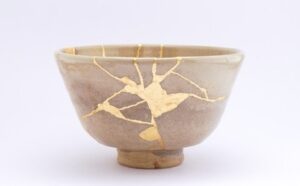 EVENT HIGHLIGHTS
Intimate setting with personal access to the teacher
Interactive sessions with question and answer periods
Shamatha and guided meditations
Delicious all-vegetarian meals with locally sourced ingredients
Extensive library of dharma books
Expansive wooded grounds with beautiful flora and fauna
OPEN BY APPLICATION
Open to any professional who has had direct experience witnessing, supporting, or offering direct intervention and services to people suffering from addiction, especially  as it pertains to the epidemic of overdose casualties.
Service providers in field of addiction
Mobile crisis team responders
EMTs
Emergency Room healthcare providers
Police Officers
Therapists
To apply, please download and fill out our application form. Please type your answers and send your completed application to Therese Bimka.
Note: At this time, we are accepting one application per program or agency. That policy may change as we get closer to the date, so please let us know if you have an interest even if a colleague has already applied.  If you work in a large agency with many different programs, please indicate that on the application.

SCHEDULE
(subject to change)
Wednesday, November 2

| | |
| --- | --- |
| 3:00 PM | Check in begins |
| 6:00-7:00 PM | Dinner |
| 7:00-9:30 PM | Welcome and Introduction |
| | Ice Breaker and Introductions |
| | Music and Imagery Session with Sarah St. Onge |
Thursday, November 3

7:00-8:00 AM
Morning Salutations and Meditation, optional
8:00-9:00 AM
Breakfast
9:15 AM-12:00 PM
What If I'm Exactly What's Needed? Finding Wholeness in the Midst of Crisis with Sarah St. Onge
12:00-2:30 PM
Lunch Options

Request a brown-bag lunch and enjoy a hike at Sam's Point
Eat and relax at the Center

3:00-5:45 PM
When It Hurts to Keep Caring: Using Self-Compassion Practices to Prevent Burnout with Valerie Linet
6:00-7:00 PM
Dinner
7:30-8:15 PM
Introduction to the Broken Bowl Project
8:15-9:45 PM
Sound Bath with Kelvin Young
Friday, November 4

| | |
| --- | --- |
| 7:00-8:00 AM | Morning Salutations and Meditation, optional |
| 8:00-9:00 AM | Breakfast |
| 9:00 AM-1:00 PM | Broken Bowl Project: Finding Our Wholeness Amid The Shards with Therese Bimka |
| 1:00-2:00 PM | Lunch |
| 2:00 PM | Checkout and Departure |
Teachers