Awakening the Inner Healer
With Tedi Zeng
September 29 - October 1, 2023
RETREAT BY INVITED PRESENTER
Healing can be simple if we connect to our natural good nature. Every living creature has a means of self-repair—and the answer to your health and longevity lies within you. Join us for a weekend of self-discovery. Together we will explore tools for self-healing that you can harness to optimize your daily life.
"Tedi is a wonderful instructor. I experienced things I never imagined I could do—and I also relaxed and recharged. I am very grateful for the experience."
STAY SAFE DURING COVID-19: We are committed to your health and safety. Please read our COVID-19 Precautions & Preparations to understand our strategies.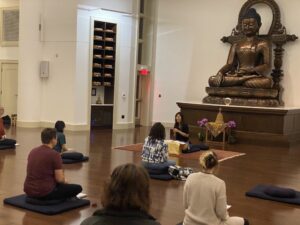 PROGRAM DESCRIPTION
The body has so much hidden intelligence, and it wants us to thrive. During this restorative weekend, you will learn different tools from Eastern medicine to better connect with your body, mind, and soul.
Qigong – Ba Duan Jin: Simple yet powerful, this form of medical Qigong is designed to improve the functioning of your internal organs and reduce muscle tightness and chronic pain. You will learn a 7-minute daily exercise routine that you can use in your home practice.
Acupressure: The best medicine is within your body, and the best doctor for you could be you. We will go through some of the most practical acupuncture points for self-healing, and learn how to give yourself a relaxing treatment using acupressure massage with essential oils, wherever and whenever you need it.
Workshop: Discovering your inner healer: What are your superpowers? What are your life's purposes? How will you help yourself to be a healthier and better person? Where did your health issues come from, and what are they trying to teach you? We will explore each of these questions—for they hold the keys to your ultimate healing.
Tai Chi: Tai Chi is a great exercise to practice maintaining balance in an ever-changing world. Even the simplest Tai Chi movements can decrease heart rate, regulate the nervous system, and increase sleep quality.
Self-healing Meditation: Thoughts and beliefs can shape our lives. We will practice meditations that bring us to a higher vibration level, ease our discomfort, and help us achieve a more peaceful state.
Healing can be challenging. It requires courage, determination, effort, and tenacity. Sometimes it opens doors to scary places. A Chinese proverb says, "Any illness is an opportunity and not a judgment. The purpose of dis-ease is to lead the person to themselves." Together we will explore our healing journey and discover the inner healer who has longed to meet you.

EVENT HIGHLIGHTS
Intimate setting with personal access to the teacher
Interactive sessions with question and answer periods
Shamatha and guided meditations
Delicious all-vegetarian meals with locally sourced ingredients
Option to extend stay on Personal Retreat
Extensive library of dharma books
Expansive wooded grounds with beautiful flora and fauna
OPEN TO ALL
There are no prerequisites for this program; it is appropriate for everyone who is ready to connect more deeply with themselves and to heal.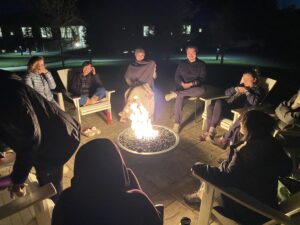 SCHEDULE
(subject to change)
Friday, September 29

| | |
| --- | --- |
| 3:00 PM | Check in begins |
| 6:00-7:00 PM | Dinner |
| 7:15-8:45 PM | Welcome and Introduction |
| | Qigong: Ba Duan Jin |
| | Acupuncture Points for Sleep (with essential oils) |
Saturday, September 30

| | |
| --- | --- |
| 7:00-8:00 AM | Morning Taichi |
| 8:00-8:45 AM | Breakfast |
| 9:00 -10:30 AM | Workshop: Healing in Colors |
| 110:45 AM-11:30 AM | Guided Meditation for Self-Healing |
| 12:00-1:00 PM | Lunch |
| 1:00-3:00 PM | Break |
| 3:00-4:00 PM | Acupuncture Points for Wellbeing (body points) |
| 4:15-5:30 PM | Five-element Acu-Yoga |
| 6:00-7:00 PM | Dinner |
| 7:15-8:30 PM | Qigong: Ba Duan Jin |
| | Acupuncture Points for Sleep (with essential oils) |
Sunday, October 1
| | |
| --- | --- |
| 7:00-8:00 AM | Kundalini Yoga |
| 8:00-8:45 AM | Breakfast |
| 9:00-10:00 AM | Acupressure Points for Wellbeing (face and scalp) |
| 10:00-10:30 AM | Qigong: Ba Duan Jin |
| 10:30 AM-11:30 AM | Group Discussion and Q&A |
| 12:00-1:00 PM | Lunch |
| 1:00 PM | Checkout and Departure |
Teacher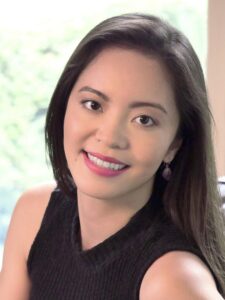 Tedi Zeng
Dr. Zixun "Tedi" Zeng is a board-certified clinical acupuncturist and traditional Chinese medicine (TCM) herbalist in New Jersey. Dr. Zeng specializes in women's health and fertility, mental health and trauma recovery, pain management and sports medicine, cosmetic and facial acupuncture. She has been practicing Chinese martial arts since her teenage years. She had won awards as a martial arts athlete in China and taught Tai Chi and Qigong in China and the U.S. in the past decade. Dr. Zeng received her M.B.B.S degree (Bachelor of Medicine, Bachelor of Surgery) from the Guangzhou University of Chinese Medicine, one of the top 3 integrative medicine…
Learn more about Tedi Zeng