Journey to HER — A Women's Retreat
With Tedi Zeng
March 10 - 12, 2023
RETREAT BY INVITED PRESENTER
Discover your innate gifts and release the wise woman's voice inside you. Through inspiring movements, meditations, discussions and reflection, you will learn how to better connect with your divine feminine and discover the hidden power of HER. This program unfolds through explorations, interactions, and playfulness. Start your mornings with refreshing Qigong or yoga, connect and relax during daytime sessions, and enjoy nighttime gatherings with essential oil-infused self-acupressure massage and chanting circles.
"Tedi has a phenomenal wealth of information and an educative power that engages, welcomes and opens you up for clarity, acceptance and love."
STAY SAFE DURING COVID-19: We are committed to your health and safety. Please read our COVID-19 Precautions & Preparations to understand our strategies.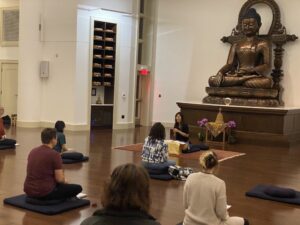 PROGRAM DESCRIPTION
Since her early 20s, Tedi Zeng has dedicated her life and work to growth and empowerment for women. Trained as an ObGyn in China, she was active in educating and helping women from underserved areas in mainland China. More recently, Tedi has hosted women's workshops in health/wellness, body awareness, experiential theater for trauma recovery, and women's oral history.
During this empowering weekend, Tedi will share different tools from Eastern medicine to better connect with your body, mind, and soul.
Workshops: Discover your inner wise woman through three relaxed and engaging workshops of questions, conversations, drawings, coloring, storytelling, writing and movement.
Qigong – Ba Duan Jin: Simple yet powerful, this form of medical Qigong is designed to improve the functioning of your internal organs and reduce muscle tightness and chronic pain. You will learn a 7-minute daily exercise routine that you can use in your home practice.
Acupressure: The best medicine is within your body, and the best doctor for you could be you. We will go through some of the most practical acupuncture points for self-healing, and learn how to give yourself a relaxing treatment using acupressure massage with essential oils, wherever and whenever you need it.
Acu-Yoga: Combining acupressure and Hatha yoga, acu-yoga smooths energy by movements that activate the acupuncture meridians.
Meditation: Thoughts and beliefs can shape our lives. We will practice meditations that bring us to a higher vibration level, ease our discomfort, and achieve a more peaceful state.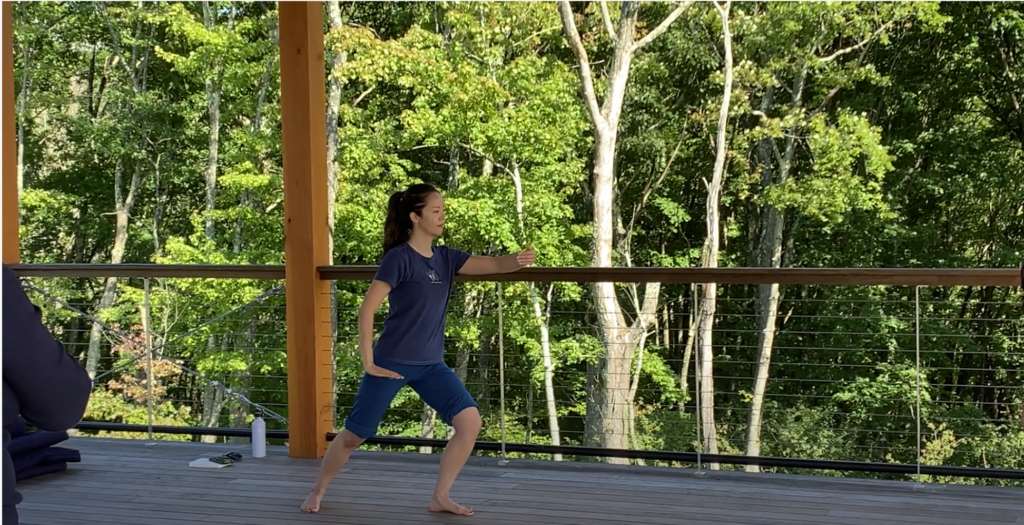 EVENT HIGHLIGHTS
Intimate setting with personal access to the teacher
Interactive sessions with question and answer periods
Shamatha and guided meditations
Delicious all-vegetarian meals with locally sourced ingredients
Option to extend stay on Personal Retreat
Extensive library of dharma books
Walking paths through expansive wooded grounds with beautiful flora and fauna
OPEN TO ALL WHO IDENTIFY AS SHE/HER
There are no prerequisites for this program; it is appropriate for everyone who identifies as she/her, and who is ready to connect more deeply with herself and to heal.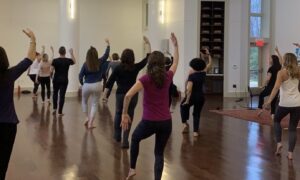 SCHEDULE
(subject to change)
Friday, March 10

| | |
| --- | --- |
| 3:00 PM | Check in begins |
| 6:00-7:00 PM | Dinner |
| 7:15-8:30 PM | Welcome and Introduction |
| | Acupuncture Points for Sleep (with essential oils) |
| | Bedtime Chanting |
Saturday, March 11

| | |
| --- | --- |
| 7:00-8:00 AM | Gentle Morning Yoga |
| 8:00-8:45 AM | Breakfast |
| 9:00-11:00 AM | Workshop: Dawn of a Wise Woman |
| 11:15 AM-12:00 PM | Movement and Meditation |
| 12:00-1:00 PM | Lunch |
| 1:00-3:00 PM | Break |
| 3:00-5:00 PM | Workshop: Growth and Rebirth |
| 5:15-6:00 PM | Movement and Meditation |
| 6:00-7:00 PM | Dinner |
| 7:15-8:00 PM | Acupuncture Points for Sleep (with essential oils) |
| | Bedtime Chanting |
Sunday, March 12
| | |
| --- | --- |
| 7:00-8:00 AM | Gentle Morning Qigong |
| 8:00-8:45 AM | Breakfast |
| 9:00-11:00 AM | Workshop: A Brand New Woman Every Day |
| 11:10-11:30 AM | Guided Meditation |
| 11:30 AM-12:00 PM | Group Discussion and Q&A |
| 12:00-1:00 PM | Lunch |
| 1:00 PM | Checkout and Departure |
Teacher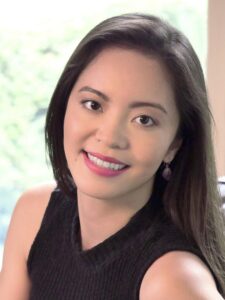 Tedi Zeng
Dr. Zixun "Tedi" Zeng is a board-certified clinical acupuncturist and traditional Chinese medicine (TCM) herbalist in New Jersey. Dr. Zeng specializes in women's health and fertility, mental health and trauma recovery, pain management and sports medicine, cosmetic and facial acupuncture. She has been practicing Chinese martial arts since her teenage years. She had won awards as a martial arts athlete in China and taught Tai Chi and Qigong in China and the U.S. in the past decade. Dr. Zeng received her M.B.B.S degree (Bachelor of Medicine, Bachelor of Surgery) from the Guangzhou University of Chinese Medicine, one of the top 3 integrative medicine…
Learn more about Tedi Zeng