Soul Spa Wellness Weekend for BIPOC Leaders
With Rev. Dr. Salome Raheim, Rev. Dr. Sushmita Mukherjee, Rev. Therese Bimka, Program Initiator and Weaver and Ben Brown
July 21 - 23, 2023
Re-Membering Our Wholeness
A DHARMAKAYA CENTER STILL PROGRAM
CO-SPONSORED BY THE HOLISTIC HEALTH COMMUNITY

Let's face it: Implicit and explicit racism is draining. Soul depleting. And in some cases, life threatening.
Today, the trauma of racism is being discussed and witnessed across diverse segments of the population and associated institutions. The time for change is ripe. We need to find creative and meaningful ways to support the leaders who bring this critical work forward.
Our response: The Soul Spa Weekend, led by two fabulous BIPOC presenters.
Join us as we sponsor 12 BIPOC Leaders who must not only navigate their own racialized trauma, but who also hold, support and offer inspiration to the communities they serve. We want to support you in strengthening your resiliency so you can stay the course and show up for the bold and compassionate work ahead. The program focuses on:
Identifying stress factors that impact healing, activism and service work using the lens of systemic constellations, ancestral healing work and nature-based expressive arts rituals
Cultivating mental, spiritual, and emotional wellbeing
Developing sustainable self-care strategies
The program is free of charge, but requires an application. To apply:
Email the form to Therese Bimka
If accepted you will receive a registration code
"Brilliant, moving, creative, and healing. The best workshop I have experienced in my life—and I am almost 70!"
"Absolutely incredible!…Amazing and eye opening…Deep Blessing…Can this go on forever? Breathtaking experience…It's rare that I feel so welcomed in retreat spaces… radical permission to return home…. "
STAY SAFE DURING COVID-19: In the interest of safety, we are strictly limiting enrollment to 12 people; please read our COVID-19 Precautions & Preparations to understand our additional strategies.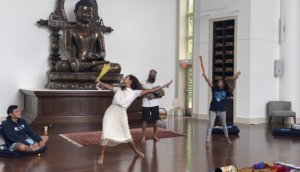 PROGRAM DESCRIPTION
The weekend offers a diverse range of opportunities. Main program sessions will be punctuated by contemplation, healing arts, time in nature, and holistic treatments.
Restoring Lineage Wholeness with Family Constellations, led by Rev. Salome Raheim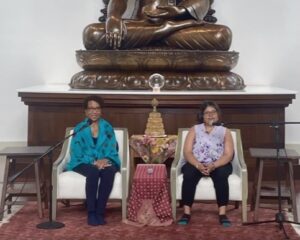 As we prepare to immerse ourselves in a soul-regenerating, body-nourishing Sound Bath, we will take a few minutes to enter a more expansive psychological space. Using an Australian Aboriginal Dreamtime story, we will enter an imaginal world—one where we are freed from our daily sense of time and where we are kin to All Beings who make up this beautiful and fragile planet of ours.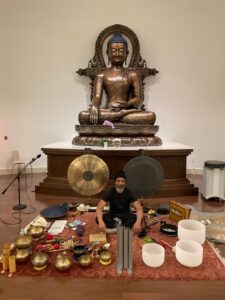 Sound Bath, given by Ben Brown
The experience of sound encourages more space, rest, and resilience in the body and nervous system. Sound also provides an opportunity to experience ourselves more deeply, to connect to our higher consciousness, to create a sanctuary within ourselves, and to provide a path to the present moment. Sound practitioner Ben Brown will facilitate this experience through singing bowls and various other sound instruments.
Returning to Embodied Wholeness: Chakra Dance, led by Rev. Sushmita Mukherjee

Chakradance is a deep but gentle practice, inviting us to become ever more alive in our bodies.
Our body is our most devoted companion, never leaving our side, from the moment of our conception to our very last breath. Chakradance honors and celebrates this relationship with our bodies within a sacred container of guided meditation, spontaneous movement, chakra-resonant music and the creation of a mandala artwork to integrate the experience.
Chakradance practice takes place in a darkened, candle-lit room, with participants' eyes closed or downcast. This facilitates an inward journey akin to prayer or meditation and minimizes any temptation of performance or comparison of self with others. Participants are free to move as much, or as little, as they wish and are able. The facilitator ensures the safety of the dancers during the experience.
Chakradance practice is deeply informed by Jungian psychology and the Eastern spiritual system of chakras (energy centers located in specific points in our bodies). During the practice, the energy and symbolism of the various chakras are invoked, embodied and honored, as aspects of our whole, integrated selves.
Integrating Wholeness: An Earth-Based Mandala Ritual, led by Rev. Sushmita Mukherjee and Rev. Salome Raheim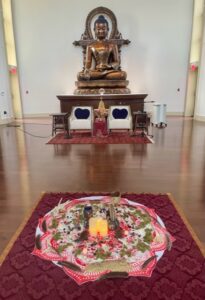 | | |
| --- | --- |
| 3:00 PM | Check in begins |
| 6:00-7:00 PM | Dinner |
| 7:15-7:30 PM | Welcome and Introduction |
| 7:30-9:45 PM | Re-membering Our Wholeness |
| |      Introductions |
| |      Casting Sacred Space: Pouring of Libations |
| |      Setting Sacred Intentions |
| |      Close with Song |
| 9:45 PM | Gather around the fire for informal connection |
Saturday, July 22

7:00-8:00 AM
Morning Salutations and Meditation, optional
8:00-9:00 AM
Breakfast
9:15 AM-1:00 PM
Restoring Lineage Wholeness with Family Constellations, led by Rev. Salome Raheim
1:00-2:00 PM
Lunch
OPTION 1:
1:30-3:00 PM
Grab a brown-bag lunch and gather for a stunning local hike and meditation on the mountain
OPTION 2:
3:30-5:30
Participate in free holistic health sessions sponsored by The Holistic Health Community of The Hudson Valley (live and virtual)
OPTION 3:
1:00-5:45 PM
Unstructured time for Relaxing
5:45-6:45 PM
Dinner
7:00-8:00 PM
Wholeness Continued: Story time, led by Rev. Sushmita Mukherjee
8:15-9:45 PM
Sound Bath, given by Ben Brown
9:45 PM
Gather around the fire for informal connection
Sunday, July 23

| | |
| --- | --- |
| 7:00-8:00 AM | Morning Salutations and Meditation, optional |
| 8:00-9:00 AM | Breakfast |
| 9:00 AM-12:00 PM | Returning to Embodied Wholeness: Chakra Dance, led by Rev. Sushmita Mukherjee |
| 12:00 PM-1:00 PM | Integrating Wholeness: An Earth Based Mandala Ritual, led by Rev. Sushmita Mukherjee and Rev. Salome Raheim |
| 1:00 PM-2:00 PM | Lunch, Evaluations |
| 2:00 PM | Checkout and Departure |
Teachers