Tuesday Night Group Meditation
Package Dates
A DHARMAKAYA CENTER PROGRAM
Meditation offers a myriad of benefits for mind, body, and spirit. Regular practice can help settle your mind; you become more peaceful, feel more centered, experience a greater sense of wellbeing. Practitioners often find it beneficial to meditate together in community, jointly increasing their depth of focus and comfort in their meditation practice. Our Tuesday night gatherings provide exactly this opportunity.
The evening is free and open to all, but reservations are required for each session.
WHAT WE'LL DO
We will meet in our spacious Meditation Hall, sitting in front of our beautiful 11-foot bronze Buddha, which was specifically designed to enhance meditation practice.
We will spend 30 minutes to one hour practicing Shamata (calming breath meditation).
While there will be no teaching during the program, a monthly Q&A with the Dharmakaya Center's Senior Teachers offers a chance to discuss any challenges that may arise and to fine-tune your meditation techniques. This is also an opportunity to learn about Tibetan Buddhist teachings and practices. We can arrange additional one-on-one sessions if you have more pressing questions.
Our founder, Trungram Gyalwa Rinpoche, gives an in-depth introduction to traditional Tibetan meditation techniques, including the conditions for successful meditation, how to focus, the correct posture, and how to adjust for being drowsy or agitated. You can find it on our YouTube Channel: https://youtu.be/5D7cNex7NfE. We recommend that you stream it prior to coming, paying careful attention to minutes 28 – 39.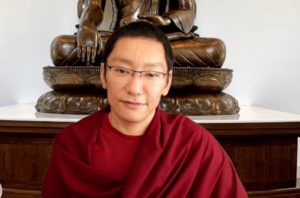 WHO SHOULD JOIN
These gatherings are designed for people with all levels of meditation experience, including beginners. You may attend as your time and interest permits. All you need to bring is your passion for inner growth.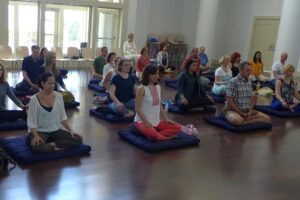 PRACTICALITIES
The Center will provide both meditation cushions and chairs; either is acceptable, and you may move between the two if necessary.
Wear something in which you can sit comfortably.
All our buildings are shoe-free, so we recommend wearing slip-on shoes; you may be barefoot, wear socks, or change into indoor slippers.
We will ask for you to leave your cell phone outside the Meditation Hall.
Please call 845.640.4593 or email frank@dharmakayacenter.org if you have any questions.