Transformation in the Wilderness
With Kamalashila and Anandajyoti
November 13 - 15, 2020
Meditating and Contemplating the Dharma according to the Tibetan Yogi Milarepa
A GUEST PROGRAM
This retreat will focus on the extraordinary way of life of Milarepa. Together, we will form a community focused on practice, supporting one another. Along with meditation, there will be teachings to ground us in the material, and rituals to open the heart and inspire us. Our texts for contemplation will be from The Hundred Thousand Songs of Milarepa (the new translation by Christopher Stagg).
PROGRAM DESCRIPTION
Underlying Milarepa's approach to meditation, insight and awakening are a number of psycho-physical yogic practices, inherited from India via his teacher Marpa. In the retreat we will also explore some breath and body-based techniques, designed to have a direct transformative effect on our awareness that can contribute to a more fully integrated experience of meditation.
The retreat will be mostly silent except for teachings, ritual and meditation reviews. It's a rare chance to take a break from making conversation and to see what happens when we let ourselves be.
Milarepa's clarity of vision has been a primary inspiration for Kamalashila who will draw on his own experience of living in simplicity as a hermit and practicing aspects of Milarepa's approach. Anandajyoti is a Buddhist scholar and Yoga teacher.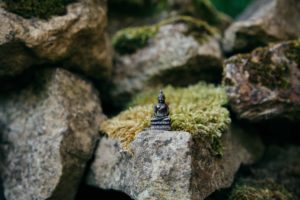 EVENT HIGHLIGHTS
Instruction and support from two highly experienced teachers and published authors
A thoughtful balance of meditation, yogic practices, contemplation, ritual and rest periods
A supportive and friendly community of practitioners
Access to beginner instruction if needed
Silence as well as Q&A with teachers
Delicious all-vegetarian meals with locally sourced ingredients
Option to extend stay on Personal Retreat
Extensive library of dharma books
Expansive wooded grounds with beautiful flora and fauna
Single rooms for all (option for couples to share)
OPEN TO ALL
Meditation: This retreat will be moat suitable for people with at least some experience of meditation. However, all are welcome and beginners will be accommodated with supplemental instruction if needed.
Breath and body work (yogic practices): no experience needed, very accessible.
SCHEDULE
(subject to change)
Friday, May 1
| | |
| --- | --- |
| 3:00 PM | Check in begins |
| 6:00-7:00 PM | Dinner |
| 7:00-9:00 PM | Group Introduction |
| | Welcome, Introductions & Dedication Ceremony— Silence Begins |
Saturday, May 2
| | |
| --- | --- |
| 6:30-7:00 AM | Breathing (yogic practices) |
| 7:00-7:50 AM | Refuges & Precepts, First Sit |
| 7:50-8:00 AM | Leg Stretch |
| 8:00-8:30 AM | Second Sit |
| 8:30-9:30 AM | Breakfast |
| 10:00 AM-12:00 PM | Morning Practice & Teaching Session |
| 12:00-1:00 PM | Lunch |
| 1:00-3:00 PM | Personal Time |
| 3:00-4:00 PM | Breath & Body (yogic practices) |
| 4:00-6:00 PM | Afternoon Practice & Teaching Session |
| 6:00-7:00 PM | Dinner |
| 7:30-9:00 PM | Evening Practice & Devotion |
Sunday, May 2
| | |
| --- | --- |
| 6:30-7:00 AM | Breathing (yogic practices) |
| 7:00-7:50 AM | Refuges & Precepts, First Sit |
| 7:50-8:00 AM | Leg Stretch |
| 8:00-8:30 AM | Second Sit |
| 8:30-9:30 AM | Breakfast |
| 10:00-11:30 AM | Morning Practice & Teaching Session |
| 11:30- AM- 12:00 PM | Closing Circle-Silence Ends |
| 12:00-1:00 PM | Lunch |
| 1:00 PM | Checkout and Departure |
Teachers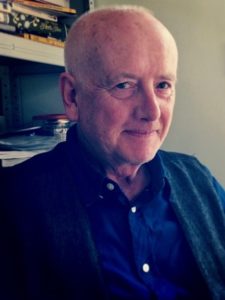 Kamalashila
Kamalashila is a longtime member of the Triratna Community who has taught meditation since his ordination in 1974.  He is a founder of Vajraloka Meditation Centre in Wales.  He also has connections with Buddhafield, a land-based Buddhist collective running retreats and festivals, and the West London Buddhist Centre.  Kamalashila has now settled in London after many years exploring Dharma practice in rural and wilderness retreats. He has always been inspired by Milarepa and his lineage.  As well as his lifelong connection as a teacher with Triratna, he trained for a few years under Lama Shenpen Hookham and Khenpo Tsultrim Gyamtso…
Learn more about Kamalashila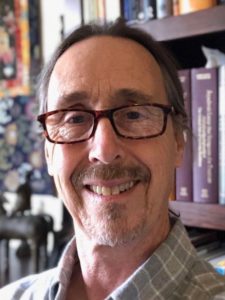 Anandajyoti
Anandajyoti (Anthony Tribe), is a longtime member of Triratna, ordained in 1978. He started practicing yoga in London, UK in the mid 1970s. After studying with B.K.S. Iyengar in India, in 1979 he became certified as an Iyengar teacher. He taught in England and Europe for sixteen years before moving to the US, where his teaching has been influenced by the more breath-focused emphasis of T.K.V. Desikachar. Anandajyoti is also a Buddhist scholar, with a doctorate in Indian Tantric Buddhism from Oxford University. He taught in the Asian Studies program at the University of Montana, Missoula, for seven years. Today…
Learn more about Anandajyoti