Basic Buddhism: Conquering Fear
With John Henderson
May 29 - 31, 2020
A DHARMAKAYA CENTER RETREAT
Every day we are assaulted by fears—about our health, our nation, our planet, and most of all, ourselves and our place in world. These fears can be paralyzing—or can fuel opportunities for growth as you operate from a center of core calm. Learn how the dharma can help, in this weekend program of teachings, discussion, and guided meditations.
This is Part 3 of our four-part Basic Buddhism series; programs may be taken individually or as a group. The other programs are:

PROGRAM DESCRIPTION
Fear generates a host of negative emotions, from anger and outrage to bitterness and jealousy. Yet, negative emotions can be also very good teachers—opportunities to notice what upsets you, to uproot it and to grow. Come explore these negative emotions we all wrestle with, including what causes them and how to master them through simple awareness.
Over the course of the weekend, through teachings, discussion and simple guided meditations we will explore the whys and hows of these emotions:
Learn the evolutionary basis and neurological effects of negative emotions
Explore ways to delve into the heart of your negative emotions
Understand how to use negative emotions to your benefit
Discover how to harness meditation and mindfulness to better manage these emotions
When not in class, relax in the Center's beautiful and tranquil environment. Enjoy the view from the patio or a nearby hike, curl up with a book in the library or contemplate the stars while sitting by the fire pit. You are always welcome to join the regularly scheduled Center activities, including the Center's Sunday study program.
EVENT HIGHLIGHTS
Intimate setting with personal access to the teacher
Interactive sessions with question and answer periods
Personal and guided meditations
Delicious all-vegetarian meals with locally sourced ingredients
Option to extend stay on Personal Retreat
Extensive library of dharma books
Expansive wooded grounds with beautiful flora and fauna

OPEN TO ALL
There are no prerequisites for this program; it is appropriate for meditators at all levels and those simply interested in exploring the teachings.
BRING A FRIEND DISCOUNT
Do you know someone who would like this program, but hasn't been to the Center? Bring them, and you both get a 10% discount on your entire program package. For the discount to apply, there must be two reservations, at least one of whom has not taken a Dharmakaya Center class previously. At checkout, apply the Discount Code: BringAFriend.
SCHEDULE
(subject to change)
Friday, August 28

| | |
| --- | --- |
| 3:00 PM | Check in begins |
| 6:00-7:00 PM | Dinner |
| 7:30-8:30 PM | Welcome and Introduction |
| | Calming Meditation Techniques |
Saturday, August 29

| | |
| --- | --- |
| 7:00-8:00 AM | Morning Salutations and Meditation, optional |
| 8:00-9:00 AM | Breakfast |
| 9:30 AM-11:30 PM | Program |
| | |
| 12:00-1:00 PM | Lunch |
| 2:00-4:30 PM | Program |
| | |
| 6:00-7:00 PM | Dinner |
| 7:30-9:00 PM | Firepit, weather permitting |
Sunday, August 30

| | |
| --- | --- |
| 7:00-8:00 AM | Morning Salutations and Meditation, optional |
| 8:00-9:00 AM | Breakfast |
| 9:30 AM-11:30 PM | Program |
| 12:00-1:00 PM | Lunch |
| 1:00 PM | Checkout and Departure |
Teacher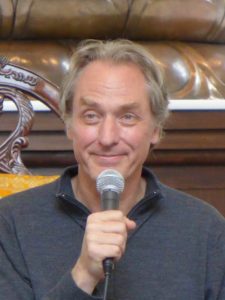 John Henderson
John Henderson has been a meditator for over 25 years and a student of Trungram Gyalwa Rinpoche's since 2003. He translates his practice into his work as a business professional and entrepreneur with a focus on healthcare-related enterprises.
Learn more about John Henderson