Avalokiteshvara Empowerment
With Trungram Gyalwa Rinpoche
September 13, 2020
A DHARMAKAYA CENTER PROGRAM
H.E. Trungram Gyalwa Rinpoche is offering an afternoon teaching and empowerment of the Thousand-Armed Avalokiteshvara, who embodies the compassion of all enlightened beings.
The teaching and empowerment will begin promptly at 2:00 PM, and will be followed by tea and cookies.
To enable appropriate social distancing, at this time attendance is being strictly limited to 40 people. Should circumstances change closer to the date, a few more spaces may become available. Please read our COVID-19 Precautions & Preparations to understand our additional safety strategies.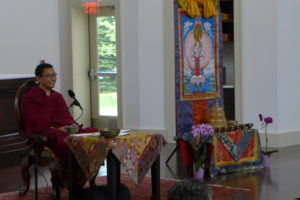 ABOUT THE TEACHING

By knowing the qualities of Avalokiteshvara, we are able to deepen and strengthen our innate compassion and empathy. Avalokiteshvara becomes a source of inspiration, a source of blessing, and a source of protection.
Such practice is especially important in this difficult time. Every uncomfortable emotion we are experiencing relates to fear—fear about our emotional and physical wellbeing, fear about our financial circumstances, fear about our loved ones. Ultimately that fear is rooted in self-clinging. Through the practice of compassion, we invest in the greater community, in humanity, and in the universe. Compassion can free us from fear and bring joy to our hearts.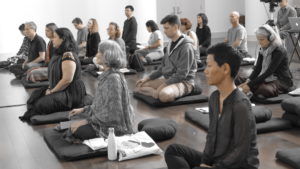 OPEN TO ALL
There are no prerequisites for this program; it is appropriate for Buddhist practitioners at all levels. However, due to the virus, space will be limited, so we encourage you to reserve early.
ADDITIONAL OPPORTUNITIES
You may wish to join us for the weekend on Personal Retreat, or to come for lunch in advance of the program. We welcome you for either, and encourage you to make plans well in advance, as space is limited.
Teacher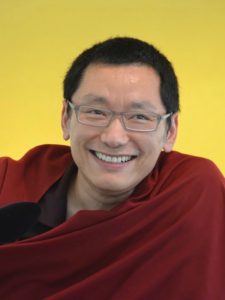 Trungram Gyalwa Rinpoche
H.E. Trungram Gyalwa Rinpoche is the founder and spiritual director of the Dharmakaya Center for Wellbeing. Known as a scholar, teacher and meditation master to thousands of students around the world, Rinpoche is also the first incarnate lama to earn a PhD in the West. He completed his doctoral studies in Indo-Tibetan Buddhism at Harvard University in 2004. He is the head of the Trungram lineage, its monasteries, meditation centers, schools, dharma centers and groups around the world. One of the highest tulkus of the Kagyu lineage, he is a Rime master, having received teachings from the great masters of…
Learn more about Trungram Gyalwa Rinpoche