Still
With Teresa Bimka
October 21 - 23, 2020
A DHARMAKAYA CENTER RETREAT
Designed specifically to address the psychological damage wrought by months of pandemic-generated fear, anxiety, and stress, this program provides an array of tools—holistic practices that help build resilience, release tension, develop inner peace, and deepen connection. We offer it in gratitude to for those working to keep our community safe, healthy, and nourished.
Program limited to 12 participants.
STAY SAFE DURING COVID-19: We are committed to your health and safety; please read our COVID-19 Precautions & Preparations to understand our strategies. Class size will be limited—and much of the program will be held outdoors—to ensure ample social distancing.

PROGRAM DESCRIPTION
This two-day program includes experiential learning, with small-group breakout sessions and large-group discussions. It specifically provides tools to help participants cope and thrive. Topics will include:
Grounding
Understanding Trauma
Stress Reduction
Self-Care
How to Resource Oneself
EVENT HIGHLIGHTS
Intimate setting with personal access to the teacher
Interactive sessions with question and answer periods
Shamatha and guided meditations
Delicious all-vegetarian meals with locally sourced ingredients
Option to extend stay on Personal Retreat
Extensive library of dharma books
Expansive wooded grounds with beautiful flora and fauna

PARTICIPANTS
This program is designed for frontline and essential workers; it is also available to others for whom the crisis has caused undue stress and anxiety. Please apply here.
SCHEDULE
Wednesday, October 21
| | |
| --- | --- |
| 3:00-6:00 PM | Check in |
| 6:00-7:00 PM | Dinner |
| 7:00-7:30 PM | Welcome and Orientation to Dharmakaya Center for Wellbeing |
| 7:30-9:30 PM | Session I: Practical Tools |
Thursday, October 22
| | |
| --- | --- |
| 7:00-7:30 AM | Movement and Meditation |
| 8:00-9:00 AM | Breakfast |
| 9:00-10:15 AM | Session II: Creating Safety |
| 10:15-10:30 AM | Break |
| 10:30 AM-12:00 PM | Session III: Understanding Trauma |
| 12:00-1:00 PM | Lunch |
| 1:00-2:00 PM | Personal Time |
| 2:00-4:00 PM | Session IV: Cultivating Resiliency |
| 4:00-4:30 PM | Break |
| 4:30-6:00 PM | Session V: Creative Expression |
| 6:00-7:00 PM | Dinner |
| 7:00-9:00 PM | Evening Activity: Sound as Self-Care |
Friday, October 23
| | |
| --- | --- |
| 7:00-7:30 AM | Movement and Meditation |
| 8:00-9:00 AM | Breakfast |
| 9:00-11:30 AM | Session VI: Removing the Obstacles to Presence |
| 11:30 AM-12:00 PM | Closing |
| 12:00-1:00 PM | Lunch |
| 1:00 PM | Check out and depart |
Teacher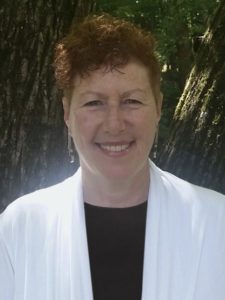 Teresa Bimka
Therese Bimka, LCSW is a psychotherapist in private practice in The Hudson Valley and in Park Slope, Brooklyn, and the Director of The Interspiritual Counseling Program at One Spirit Interfaith Alliance. She is a seasoned leader of retreats and workshops for groups who have experienced some form of trauma. Her work centers on trusting the innate drive to wholeness. Understanding that the psyche contains many aspects of self, based on personal life stories, she believes in the self-regulation of the psyche and the innate wisdom within. She is licensed to practice psychotherapy in the State of New York. Therese has advanced…
Learn more about Teresa Bimka