Apply the Principles of Permaculture to Your Inner and Outer Landscape
With Andrew Faust
March 26 - 28, 2021
RETREAT BY INVITED PRESENTER
In this transformative and grounding program, renowned permaculture designer Andrew Faust explains how to read landscapes, and identify and design them in accordance with the earth's energy. Combining lectures and woods walks through our 90-acre campus, students will glean a deep understanding of how the Earth works, and how to live in alignment with the planet.
STAY SAFE DURING COVID-19: In the interest of safety, we are strictly limiting enrollment to 12 people; please read our COVID-19 Precautions & Preparations to understand our additional strategies.
BRING A FRIEND DISCOUNT: Do you know someone who would like this program, but hasn't been to the Center? Bring them, and you both get a 10% discount on your entire program package. For the discount to apply, there must be two reservations, at least one of whom has not taken a Dharmakaya Center class previously. At checkout, apply the Discount Code: BringAFriend.

PROGRAM DESCRIPTION
Permaculture is not just an approach to sustainable living—it is a way of seeing, thinking and of understanding ourselves as organisms deeply rooted in the matrix of planet Earth. Permaculture Design:
Provides a new model for economic development.

Addresses the major social justice and environmental issues of our times from a whole systems perspective.

Is a worldwide movement that is helping to regenerate local ecologies and economies.
In this inspiring weekend, Andrew Faust of Center for Bioregional Living draws on his 20 years as a professional educator, permaculture designer, and natural builder to give us an inspiring and heady narrative about the evolution of all life and human consciousness on Mother Earth. This is a brilliant condensation of the core of the scientific worldview with the metaphysical implications highlighted along the way—concluding with clear explanations of how to apply the principles of permaculture–even in an urban landscape.
Prior to the course, students are advised to watch The Evolution of Ecological Consciousness.
EVENT HIGHLIGHTS
Intimate setting with personal access to the teacher
Interactive sessions with question and answer periods
Option to begin each morning with salutations and silent meditation
Delicious all-vegetarian meals with locally sourced ingredients
Option to extend stay on Personal Retreat
Extensive library of dharma books
Expansive wooded grounds with beautiful flora and fauna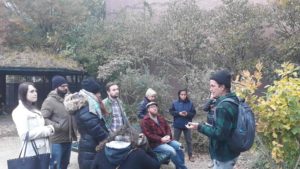 OPEN TO ALL
There are no prerequisites for this program; it is appropriate for all who bring an interest in learning and an open mind. The program will include moderate outdoor walking.
SCHEDULE
Schedule is subject to change
Friday, March 26

| | |
| --- | --- |
| 3:00 PM | Check in begins |
| 6:00-7:00 PM | Dinner |
| 7:00-9:00 PM | Welcome and Introduction |
| | Session sharing insights from Joe Pierce and Bill Mollison |
Saturday, March 27

| | |
| --- | --- |
| 7:00-8:00 AM | Morning Salutations and Meditation |
| 8:00-9:00 AM | Breakfast |
| 9:00 AM-12:00 PM | Session: Permaculture as a Land Design Tool |
| 12:00-1:00 PM | Lunch |
| 1:00-5:00 PM | Session: Woods walk, with periods of sitting, reading the Earth's energy |
| 6:00-7:00 PM | Dinner |
| 8:00-10:00 PM | Fire Pit, weather permitting |
Sunday, March 28

| | |
| --- | --- |
| 7:00-8:00 AM | Morning Salutations and Meditation |
| 8:00-9:00 AM | Breakfast |
| 9:00 AM-12:00 PM | Session: Presentation and discussion on how to scale these ideas to have a profound impact |
| 12:00-1:00 PM | Lunch |
| 1:00 PM | Check out and departure |
Teacher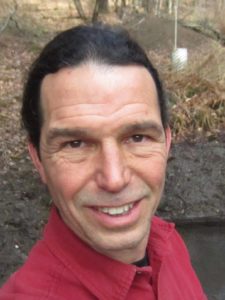 Andrew Faust
With over two decades of experience in the field, Andrew is one of the premier permaculture teachers and designers in North America. His passionate and mind expanding curriculum and talks—including his TED X lecture—have motivated students, teachers, filmmakers and the general public, inspiring the film Inhabit and a life changing Permaculture Design Certification course. Andrew created his own Permaculture PhD project, in 1999, a fully off grid, Straw Bale educational center in Pocahontas County W.V. In 2007, he moved to Brooklyn where he has been applying his knowledge to the urban landscape. Learn more at: https://www.permaculturenewyork.com/
Learn more about Andrew Faust