To Begin, Begin: An Introduction to Traditional Buddhist Meditation
With Gary Wheaton
April 16 - 18, 2021
A DHARMAKAYA CENTER RETREAT
You have been hearing about meditation and are curious about starting a practice—or maybe you have been practicing but want to go deeper. Where to begin? This weekend program will ground you in the fundamentals of Tibetan Buddhist meditation, with clear instruction, interactive discussion, and practice in a range of techniques.
"Thank you for everything; I want to stay a week!"
STAY SAFE DURING COVID-19: In the interest of safety, we are strictly limiting enrollment to 12 people; please read our COVID-19 Precautions & Preparations to understand our additional strategies.
BRING A FRIEND DISCOUNT: Do you know someone who would like this program, but hasn't been to the Center? Bring them, and you both get a 10% discount on your entire program package. For the discount to apply, there must be two reservations, at least one of whom has not taken a Dharmakaya Center class previously. At checkout, apply the Discount Code: BringAFriend.

PROGRAM DESCRIPTION
Meditation has been praised for its many benefits—a means of reducing stress, improving health, increasing focus. It can help you achieve all those things. Yet for Tibetan Buddhists, the meditator is above all an inner traveler. By quieting the mind, opening your heart, and listening deeply it is possible to reach a space of deep peace and inner spaciousness.
This weekend program will explore the value of meditation—calming the mind and releasing attachment and negativity. You will learn proper posture, how to bring your mind back to focus when it wanders, when movement is a valuable aid. You will discover numerous meditation styles and techniques, from simply following your breath, to walking meditation, to explorations of compassion and loving-kindness. Above all, you will gain the tools to build a sustainable daily practice.
You will leave with valuable skills that can change how you choose to relate to, react to, and view the world around you. That growing sense of awareness and understanding can ultimately transform your life.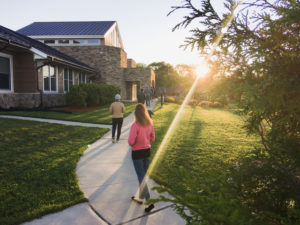 (click image for video of walking meditation at the Center)
EVENT HIGHLIGHTS
Intimate setting with personal access to the teacher
Interactive sessions with question and answer periods
Personal and guided meditation sessions
Delicious all-vegetarian meals with locally sourced ingredients
Option to extend stay on Personal Retreat
Extensive library of dharma books
Expansive wooded grounds with beautiful flora and fauna
OPEN TO ALL
There are no prerequisites for this program; it is appropriate for meditators at all levels and those simply interested in learning more about themselves.
SCHEDULE
(subject to change)
Friday, April 16

| | |
| --- | --- |
| 3:00 PM | Check in begins |
| 6:00-7:00 PM | Dinner |
| 7:30-9:00 PM | Welcome and Introduction |
| | Meditation |
Saturday, April 17

| | |
| --- | --- |
| 7:00-8:00 AM | Morning Salutations and Meditation, optional |
| 8:00-9:00 AM | Breakfast |
| 9:30 AM-11:30 AM | Meditation |
| | |
| 12:00-1:00 PM | Lunch |
| 2:00-4:30 PM | Meditation |
| | |
| 6:00-7:00 PM | Dinner |
| 7:30-9:00 PM | Evening Meditation, optional |
Sunday, April 18

| | |
| --- | --- |
| 7:00-8:00 AM | Morning Salutations and Meditation, optional |
| 8:00-9:00 AM | Breakfast |
| 9:30 AM-11:30 AM | Meditation |
| 12:00-1:00 PM | Lunch |
| 1:00 PM | Checkout and Departure |
Teacher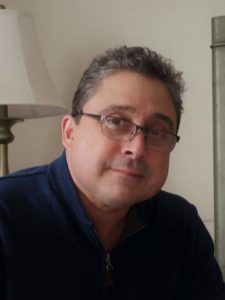 Gary Wheaton
Gary Wheaton has been a Buddhist practitioner and student of Trungram Gyalwa Rinpoche since 2008. He has served as retreat cook, retreat organizer, retreat leader, and teacher's assistant. Professionally he is a human resources director, with expertise in conflict resolution and coaching.
Learn more about Gary Wheaton