Self Care and Energy Repair
With MJ Watkins and Lucas Hall
May 14 - 16, 2021
A Weekend Retreat in Right Effort
RETREAT BY INVITED PRESENTER
Led by two dynamic teachers from New York Loves Yoga, each day of this restorative retreat offers a toolbox of wellness offerings: uplifting vinyasa yoga, guided metta meditations, breath work, meridian energy work, sound baths, somatics, and strength and mobility training—all to encourage balance and vitality. You will leave feeling clear, deeply relaxed, and rejuvenated.
"This was a perfect weekend retreat. I'll be back!"
STAY SAFE DURING COVID-19: We are committed to your health and safety; please read our COVID-19 Precautions & Preparations to understand our strategies.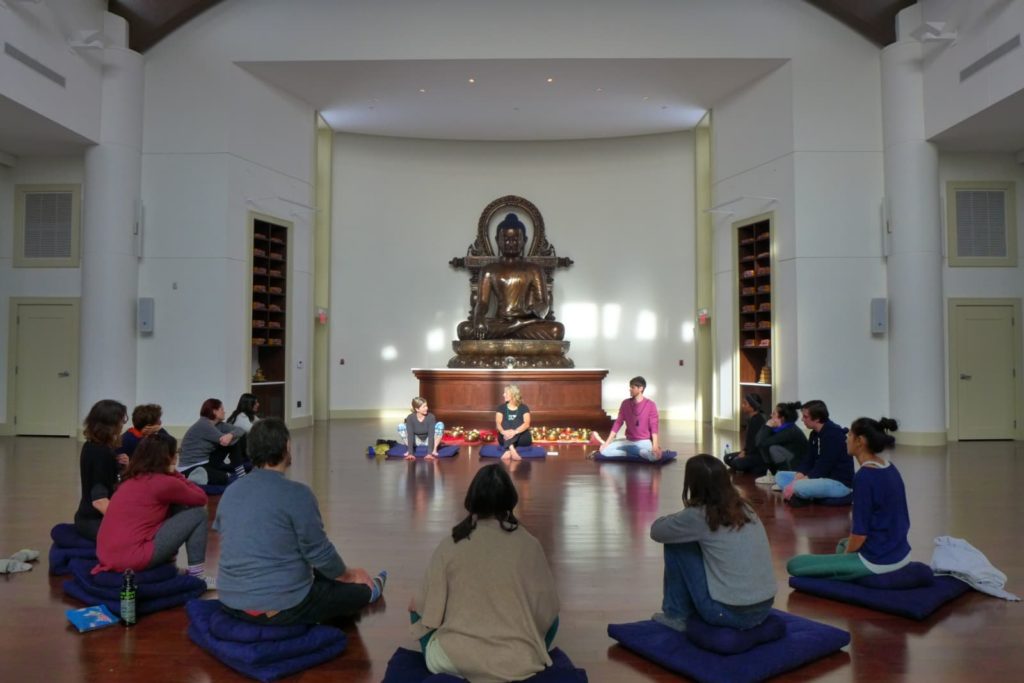 PROGRAM DESCRIPTION
Each morning begins with breath meditations and classic vinyasa yoga, followed by a serene light-filled silent breakfast. You will feel the bounty of  strength and contentment.
A  group circle after our physical and silent mornings brings us together—balanced, invigorated and calm. After time for private reflection, writing and contemplation, we meet to discuss right effort and how to retrain the mind to produce wholesome states of being, while redirecting unwholesome thoughts that may be limiting your ability to experience joy and contentment.
In the evening, Atma Buti Tibetan sound bowls fill the meditation hall as your nights are cocooned by  the relaxation technique of yoga nidra.
Guided Meditations that are accessible, nurturing and guided.
Hatha Vinyasa Yoga that combines the alignment and foundation approach of Hatha with the intensity and power of vinyasa, deep breath practices and meditation.
Somatics, a safe, gentle and effective form of neuromuscular (mind-body) movements that go to the root cause of most chronic muscular pain.
Yoga Nidra, "dynamic sleep," allowing the body to deeply relax while the mind stays inwardly alert—the knife's edge where the body "sleeps" while the mind is lucid.
Atma Buti Tibetan Sound Bowls—literally translated as soul herbal medicine—deliver the healing power of sound

 EVENT HIGHLIGHTS
Intimate setting with personal access to the teachers
Interactive sessions with question and answer periods
Vinyasa yoga, Somatic yoga and Yoga Nidra
Shamatha and guided meditations
Delicious all-vegetarian meals with locally sourced ingredients
Option to extend stay on Personal Retreat
Extensive library of dharma books
Expansive wooded grounds with beautiful flora and fauna
OPEN TO ALL
There are no prerequisites for this program; it is appropriate for all, although some yoga experience is helpful.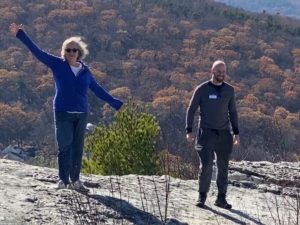 SCHEDULE
(subject to change)
Friday, May 14

| | |
| --- | --- |
| 3:00 PM | Check in begins |
| 4:00 PM | Opening Circle (Mediation Hall) |
| 5:15 – 7:15 PM | Yoga Class and the Sound Experience (Meditation Hall) |
| 7:30-8:30 PM | Dinner (Dining Hall) |
Saturday, May 15

| | |
| --- | --- |
| 9:00 – 10:30 AM | Yoga Class, Silent (Meditation Hall) |
| 11:00 AM – 12:00 PM | Brunch, Silent (Dining Hall) |
| 12:00 – 3:00 PM | Nature Walk/Personal Time |
| 3:00 – 4:45 PM | Meditation (Meditation Hall) |
| 4:45 – 5:45 PM | Somatics & Energy Medicine (Meditation Hall) |
| 6:00 – 7:00 PM | Dinner (Dining Hall) |
| 8:00 – 9:15 PM | The Sound Experience |
| | Yoga Nidra & Tibetan Sound Healing Ceremony |
Sunday, May 16

| | |
| --- | --- |
| 9:00 – 10:30 AM | Yoga Class, Silent (Meditation Hall) |
| 11:00 AM – 12:00 PM | Brunch, Silent (Dining Hall) |
| 12:00 – 12:30 PM | Closing Circle |
| 1:00 PM | Check out and departure |
Teachers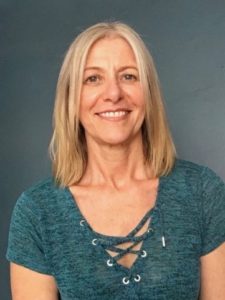 MJ Watkins
As partner of NY Loves Yoga, MJ Watkins listens to students speak about why they come to yoga – stress relief, relaxation, finding peace internally and wellness. Her interest in and passion for Thomas Hanna Somatics, came after a back injury and loss of physical movement. She focuses on breath, the nervous system and regaining strength through movement to promote flexibility, health and mental relaxation.MJ's training includes: RYT 300, Academy of Yoga & Meditation, India; E-RYT 200, Zuna Yoga, Tantra–Hatha; Reiki Level 1; Atma Buti Singing Bowls; Restorative Yoga; Yoga Nidra, ISHTA, NYC; Essential Somatics Movement, Martha Peterson, Radiant Child…
Learn more about MJ Watkins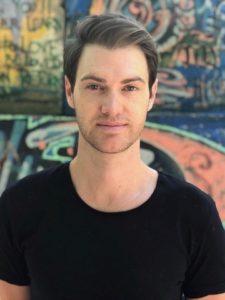 Lucas Hall
With a lifelong passion for self-development, and the desire to help others become their best selves, Lucas Hall took the leap and travelled to Bali, Indonesia to study the teachings of Hatha yoga with renowned teachers Everett Newell & Katherine Girling (Zuna Yoga, zunayoga.com) Already a teacher of voice here in NYC and with a background in dance, Lucas's skill set of body/mind conditioning and how to motivate and empower his students is one of his most enticing qualities as a yoga teacher. Lucas's classes are accessible, effective and well rounded. Each class includes strong asana poses, focused breathing and…
Learn more about Lucas Hall