Mindfulness and the Expressive Arts
With Rev. Therese Bimka, LCSW
August 27 - 29, 2021
Rest • Play • Rejuvenate • Thrive
RETREAT BY INVITED PRESENTER
Like a shy soul, the creative self sometimes needs a little coaxing to come out and play. Therese specializes in creating safe, warm, meaningful spaces where the creative process is free to emerge. She offers a unique blend of spiritual practices that support, guide and enrich the creative process. Moving beyond language, the arts invite us into Kairos time, allowing us to slip into fundamental awareness with greater ease.
"Therese's diverse skills and learning and integrated activities supported a profound opening, letting healing and love in."
STAY SAFE DURING COVID-19: We are committed to your health and safety; class size is limited to 12 to facilitate social distancing and ample teacher attention. Please read our COVID-19 Precautions & Preparations to understand our additional strategies.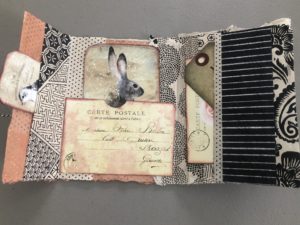 PROGRAM DESCRIPTION
Over the course of the weekend, Therese will blend a variety of teachings and experiences through the lens of contemplation, meditation, expressive arts, ritual and sangha building.
Each participant will create a three-sided Prayer or Blessing Pocket that can be placed on an altar or itself serve as an altar. Composed of collage, stamping, unique papers and an assortment of "multi media goodies,"  each Prayer Pocket is a unique expression of intention and blessing.
Therese is known for her ability to read a group and attune to what is seeking to emerge. In response, she will intuit additional creative activities that may include sacred poetry, movement, walking meditation, fire ritual, sounding, or soulcollage.  Time in nature will also offer sustenance and soul nourishment. Saturday night will feature a sound bath or ritual.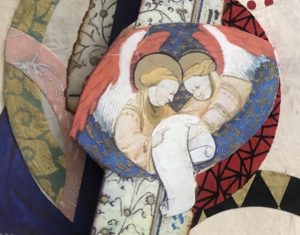 MATERIALS AND TOOLS
It's very inspiring to have access to lots of unusual goodies to adorn and decorate. Therese likes to create an abundance of materials from which to play – mirroring the abundance that is always present in the universe if we simply pause, notice and appreciate.
While most materials will be provided (costs are included in the program fee), participants should bring:
Scissors
Glue stick
Cardboard to work on (ideal size: 14x 14)
Paper shopping bag
A catalogue that you no longer need
Beautiful pictures (Therese will also supply many images to choose from)
A prayer, blessing or poem (Therese will also bring a wide assortment)
Thin gold or white marker (for writing)
EVENT HIGHLIGHTS
Group size limited to 16 to ensure personal access to the teacher
There will be opportunities to be in community while in enjoying silent creative exploration
Group sharing and deepening will be woven into the weekend time together
Guided meditations create the fertile ground to drop in
Option to begin each morning with salutations and silent meditation
Optional hike to Sam's Point – beautiful and very close by
Delicious all-vegetarian meals with locally sourced ingredients
Extensive library of dharma books
Expansive wooded grounds with beautiful flora and fauna
Option to extend stay on Personal Retreat
OPEN TO ALL
There are no prerequisites for this program; it is appropriate for all.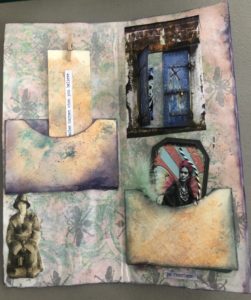 SCHEDULE
(subject to change)
Friday, August 27

| | |
| --- | --- |
| 3:00 PM | Check in begins |
| 6:00-7:00 PM | Dinner |
| 7:30-8:30 PM | Welcome and Introduction |
| | Program, Session 1 |
Saturday, August 28

| | |
| --- | --- |
| 7:00-8:00 AM | Morning Salutations and Meditation, optional |
| 8:00-9:00 AM | Breakfast |
| 9:30 AM-11:30 AM | Program, Session 2 |
| | |
| 12:00-1:00 PM | Lunch |
| 2:00-4:30 PM | Program, Session 3 |
| | |
| 6:00-7:00 PM | Dinner |
| 7:30-9:00 PM | Sound Bath |
Sunday, August 29

| | |
| --- | --- |
| 7:00-8:00 AM | Morning Salutations and Meditation, optional |
| 8:00-9:00 AM | Breakfast |
| 9:30 AM-11:30 AM | Program, Session 4 |
| 12:00-1:00 PM | Lunch |
| 1:00 PM | Checkout and Departure |
Teacher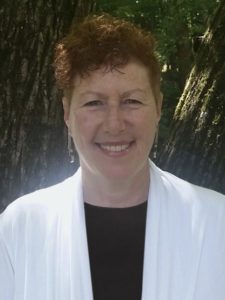 Rev. Therese Bimka, LCSW
Therese is a spiritual director and a psychotherapist in private practice in The Hudson Valley and the Director of The Interspiritual Counseling Program at One Spirit Interfaith Alliance.  She is a seasoned leader of retreats and workshops on a wide range of psycho-spiritual and creative themes. She has advanced training in various trauma- based teachings, guided visualizations for health, mindfulness meditation, Buddhism and psychology, expressive arts, Jungian Sandplay Therapy, soulcollage, and restorative justice, among others. Therese has led workshops and retreats for a number of organizations, including: The Hudson Valley Guild for Mental Health Practitioners, One Spirit Interfaith Alliance, Pratt…
Learn more about Rev. Therese Bimka, LCSW