Soul Spa Wellness Weekend for BIPOC Leaders
With Iya Rev. DeShannon Barnes-Bowens, Abigail "Ifatola" Jefferson, ArinMaya, Ben Brown and Rev. Therese Bimka, Program Initiator and Weaver
July 16 - 18, 2021
REST ~  RESTORE ~ AND RESET
An opportunity to nourish body, mind, heart, spirit and soul.
CO-SPONSORED BY
THE DHARMAKAYA CENTER FOR WELLBEING

THE HUDSON VALLEY GUILD OF MENTAL HEALTH PROFESSIONALS
THE HOLISTIC HEALTH COMMUNITY, in collaboration with the Morty and Gloria Wolosoff Foundation

Let's face it: Implicit and explicit racism is draining. Soul depleting.
And in some cases, life threatening.
While COVID has been challenging for all Americans, the pandemic has impacted communities of color in far more damaging ways than it has other communities. It has been devastating. In tandem, due to what some call the COVID pressure cooker, the profound pain and injustice of racism has exploded. The trauma of racism is being discussed and witnessed across diverse segments of the population and associated institutions. We need to find creative and meaningful ways to support those on the front lines.
The Soul Spa Wellness Program offers a free weekend of restorative practices in a peaceful spiritual setting for 12 BIPOC Leaders. Open by application.
We're sorry, this weekend is fully booked and applications are closed. 
STAY SAFE DURING COVID-19: In the interest of safety, we are strictly limiting enrollment to 12 people; please read our COVID-19 Precautions & Preparations to understand our additional strategies.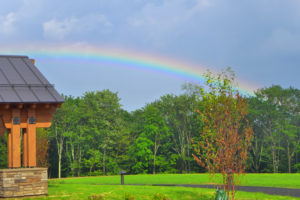 PROGRAM DESCRIPTION
The weekend will offer a diverse range of opportunities. Four main program sessions will be punctuated by contemplation, healing arts, time in nature, and holistic treatments.
Intention Setting and Intonation, led by ArinMaya
Sound healing practitioner and songwriter ArinMaya will guide us through welcome and introductory exercises, including intention-setting for the weekend and culminating in her signature Meditation Moments – a grounding, intuitive-based improvisational vocal sound bath. Centering in sound and silence will be a wonderful beginning to our weekend together as we circle up to center self-care for ourselves and refill our cups.
Sustainable Selfcare and Spiritual Wellness, led by Iya Rev. DeShannon Barnes-Bowens
As BIPOC leaders, healers and activists, we know firsthand how stress and trauma can affect our overall sense of wellbeing. The heartfelt connection we cultivate with causes and people we advocate for, often leads to exhaustion, depletion and fatigue due to the nature of daily living and work. During our time together, we will engage in spiritual practice and learn methods to reduce stress and bring our lives back into balance. This session will help you:
Learn the importance of cultivating mental, spiritual & emotional wellbeing
Identify how stress can impact healing, activism and service work
Develop sustainable self-care strategies
Sound Bath, led by Ben Brown
The experience of sound encourages more space, rest, and resilience in the body and nervous system. Sound also provides an opportunity to experience ourselves more deeply, to connect to our higher consciousness, to create a sanctuary within ourselves, and to provide a path to the present moment. Sound practitioner Ben Brown will create this experience through singing bowls, tuning forks, gong, drums, and various other sound instruments.
Expressive Healing Arts, led by Reverend Abigail "Ifatola" Jefferson
This exciting, fun-filled expressive arts experience will spark the imagination, activate ancestal healing, and tap into our creative flow by exploring storytelling as an art form. Arts educator Abigail Jefferson will also lead Energy for Life™ movement to relax and energize the system.   Lastly, there will be time for gentle stretching, calming breath work, journaling and group sharing.
APPLICATION
This program is free of charge, but requires an application. To apply, please email Therese Bimka with details on your community or organizational role, how you or those you serve have been impacted by COVID and why participation in this retreat is important for you. Those who are accepted will receive a registration code.
Note: Priority will be given to leaders in The Hudson Valley.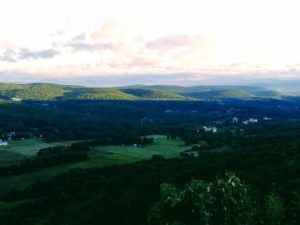 SCHEDULE
(subject to change)
Friday, July 16

| | |
| --- | --- |
| 3:00 PM | Check in begins |
| 6:00-7:00 PM | Dinner |
| 7:00-8:30 PM | Welcome and Introduction |
| | Intention Setting and Intonation, led by ArinMaya |
Saturday, July 17

7:00-8:00 AM
Morning Salutations and Meditation, optional
8:00-9:00 AM
Breakfast
9:30 AM-11:00 AM
Sustainable Selfcare and Spiritual Wellness, led by Iya Rev. DeShannon Barnes-Bowens
12:00-1:00 PM
Lunch
1:00-6:00 PM
Unstructured time for:

Hiking
Expressive Arts
Holistic Health Sessions
Relaxing

6:00-7:00 PM
Dinner
7:30-9:00 PM
Sound Bath, led by Ben Brown
Sunday, July 18

| | |
| --- | --- |
| 7:00-8:00 AM | Morning Salutations and Meditation, optional |
| 8:00-9:00 AM | Breakfast |
| 9:30 AM-11:00 AM | Expressive Healing Arts, led by Reverend Abigail "Ifatola" Jefferson |
| 12:00-1:00 PM | Lunch |
| 1:00 PM | Checkout and Departure |
Teachers