Journey Home: A Kundalini Yoga Experience of Self-Knowledge
With Trish O'Gorman
October 15 - 17, 2021
RETREAT BY INVITED PRESENTER

Kundalini yoga is a dynamic style of yoga that serves everyone; all that's required is an open, curious mind and a willing heart. Experience the unity, peace and joy that comes from this ancient practice. It's time to heal, to find meaning, to find ourselves, to release fear and embrace love. This retreat is an opportunity for everyone to experience the transformative power of Kundalini Yoga and Meditation amidst the beauty of fall in the Catskills.
Click here to view a video of last year's retreat
"Thank you, Trish, for leading and guiding us. Keep making a magic atmosphere; it is so needed."
STAY SAFE DURING COVID-19: We are committed to your health and safety; please read our COVID-19 Precautions & Preparations to understand our strategies.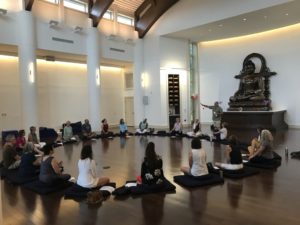 PROGRAM DESCRIPTION
Join Trish for this inspiring weekend of personal transformation, using the science and technology of Kundalini yoga and meditation to reconnect, release old habits, limit beliefs and move into who we really are. Over the weekend we will:
Practice Kriya (asana and movements), applying the technology of Kundalini Yoga to our bodies and minds, and experiencing the effect it has of uplifting our spirit, healing our hearts and connecting us deeply to our true selves
Meditate using mantra (sound) and mudra (hand position and movement)
Relax deeply, immersed in the natural beauty of the woods as we hike the Shawgunk Mountains and allow our intuition to blossom, guiding us to our Soul's purpose
Journey home to our hearts to find the love, acceptance, and peace that is always present
This will be an opportunity to dive deeply into this experiential practice, explore the teachings of Yogi Bhajan, and find answers to your questions about Kundalini.

EVENT HIGHLIGHTS
Intimate setting with personal access to the teacher
Interactive sessions with question and answer periods
Uplifting meditations and yoga nidra for deep relaxation
Delicious all-vegetarian meals with locally sourced ingredients
Option to extend stay on Personal Retreat
Extensive library of dharma books
Expansive wooded grounds with beautiful flora and fauna
OPEN TO ALL
There are no requirements or prerequisites other than to BE YOU and have the experience that is right for you. There are no levels in Kundalini yoga; it is for everybody. Come ready to move, write, laugh, sing, meditate, rest and rejuvenate. Suitable for beginner and intermediate levels, practice will be tailored to the skills of the students.
SCHEDULE
(subject to change)
Friday, October 15
3:00 pm
Check in begins
6:00-7:00 pm
Dinner (Dining Room)
7:15-9:00 pm
Welcome and Introduction (Milarepa Hall)
Kriya, Meditation and Deep Relaxation
Saturday, October 16
| | |
| --- | --- |
| 6:00-8:00 am | Aquarian Sadhana: Japji, Kriya, Chanting Meditations (Milarepa Hall) |
| 8:00-9:00 am | Breakfast (Dining Hall) |
| 10:00-12:00 pm | Kundalini Yoga and Meditation (Outdoors or Milarepa Hall) |
| 12:00-1:00 pm | Lunch (Dining Hall) |
| 1:30-4:00 pm | Group Hike |
| 6:00-7:00 pm | Dinner (Dining Hall) |
| 7:15-9:00 pm | 62-minute Chanting Meditation, Ecstatic Dance, Joyful Movement, Gong Bath (Milarepa Hall) |
Sunday, October 17
| | |
| --- | --- |
| 6:00-8:00 am | Aquarian Sadhana: Japji, Kriya, Chanting Meditations (Milarepa Hall) |
| 8:00-9:00 am | Breakfast (Dining Hall) |
| 10:00-11:30 am | Kundalini Yoga and Meditation (Outdoors or Milarepa Hall) |
| | Dharma Talk, Q&A, Closing Ceremony (Milarepa Hall) |
| 12:00-1:00 pm | Lunch (Dining Hall) |
| 1:00 pm | Checkout and Departure |
Teacher
Trish O'Gorman
Trish O'Gorman, also known as Ravi Kirtan, is a level 1 and 2 trained teacher of Kundalini yoga who has been teaching several classes a week, leading workshops and trainings, since 2005. Her first experience with Kundalini yoga was in 2004 and it was an experience of coming home. It resonated so deeply physically, mentally, emotionally and spiritually, Ravi Kirtan knew she had found her dharma. Sharing this enormous body of work and its transformative power has become her purpose. A nurse by profession the science behind the teachings fascinate and compel Ravi Kirtan to keep learning and continuing on…
Learn more about Trish O'Gorman